Welcome to Year 1 2016-17
Scroll down to find out a selection of what we are up to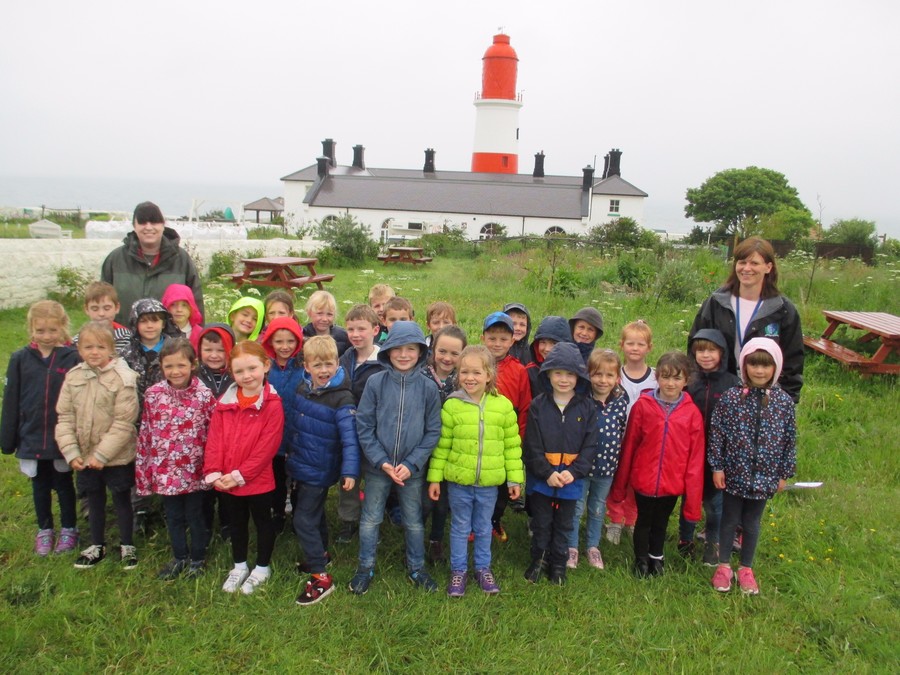 Welcome to Year One
Our first week back at school has been very busy but lots of fun. It was lovely to see everyone after the long summer holiday. We have spent our first week sharing our holiday news and getting used to our new classroom. We have had singing with Mrs Banning, who will be coming to sing with us every Wednesday afternoon. We also had our first PE lessons. PE will be on a Wednesday with Mrs Henderson and on a Friday Morning, when this term we will be having some tennis coaching. The boys and girls have all settled in very well and we all agreed it was good to be back.
Visit to Crawcrook Library
On Thursday 6th October Year 1 visited Crawcrook Library. The library is under threat of closure and we were invited to help show our support for this valuable community service. We were shown around by a member of staff, who showed us how important the library is to the community. The library offers many different activities for all age groups. While we were there we designed some 'Save our Library' posters, which were sent to the council, along with letters that other classes in school had written. Hopefully we can help persuade Gateshead Council to keep our lovely library open and save it from closure.
Our Visit to Kirkley Zoo
On the 8th November year one visited Kirkley Zoo. When we first arrived we were met by our helpers for the day, Gemma and John, and we were split into 2 groups. Gemma's group went with Mrs Watson on a woodland walk and John's group went with Mrs Golightly to look at the animals in the zoo. Later we all got back together for lunch and then we swapped around activities. We saw lots of different animals in the zoo, including wallabies, snakes, reindeer, skunks, meerkats, bush dogs and capybara to name but a few. We also got to hold rabbits and guinea pigs. During the woodland walk we looked at some animals natural habitats and had great fun hunting for bugs and insects. We had a brilliant day and we were all sad when it was time to leave.
Handa's Surprise
This term we have been looking at the story of Handa's Surprise. We were able to use the green screen to retell the story. We had lots of fun doing this activity and we hope you will be very impressed with our acting skills.
The Three Little Pigs
This week we were architects! We planned, designed and built houses for The Three Little Pigs using straw, sticks and bricks. Our houses had to be built as sturdy as possible because we had to test them using our 'Wolf Huffer and Puffer' machine.
Judo Taster
On Monday we had a Judo taster session with John. We all enjoyed taking part and learning new skills. Thank you John, we had so much fun!
Souter Lighthouse
This week, as part of our English and Science topics learning about the seaside and lighthouses, Year 1 visited Souter Lighthouse. We were met by our guides Eddie, Geoff and Ian. We went into groups of 10 and with our guide we began to explore the lighthouse. Each group explored the Engine room, where we learnt about how the fog horn worked, the Cottage, where the lighthouse keeper's would have lived and we climbed 76 very steep steps to reach the top of the lighthouse. We were all very brave when climbing the steps and we all agreed it was worth it to see the view and the beautiful light at the top! After we had all looked around we enjoyed our lunch. After lunch we went into the nature garden to do our bug hunt. We found lots of snails, slugs, woodlice and even a couple of fish in the pond! Finally it was time for a group photo and to come back to school, which we were all sad about. We had a brilliant day!
Sports Day
Thank you to everyone who came and supported us on sports day and joined us for our picnic afterwards. We hope you all enjoyed it as much as we did!
Lighthouse Making Day
Thank you to everyone who came in to school yesterday to take part in our lighthouse making activity. It was a super effort all round and we think that you will agree that the Lighthouses are amazing. Well done to you all. We hope you enjoyed it as much as we did.
Buddy Training
On October 5th we had lots of fun helping year 5 out with their buddy training
Discovery Museum
On Tuesday 18th October we had a trip to the Discovery Museum in Newcastle. Our first stop was the Science Maze. We had a great time exploring and trying all the different activities. Then as part of our toy topic in school this term we went to a toy workshop where we were able to look at and find out all about toys from the past and present. After Lunch we headed to the water activity where we had lots of fun playing in the water. After we had dried out a bit it was time for us to head back to school. We all agreed we had a brilliant day.
Christmas Fun
Year one would like to wish you all a very merry Christmas and a happy new year. Here are a few photos from our nativity and our Christmas party day.
Fruit Tasting
This term we have been learning about Africa and have done lots of work based on the book Handa's Surprise. Last week we looked at all the different fruits that Handa had in her basket and then we got to taste them. We were all very adventurous and tasted pineapple, avocado, passion-fruit, oranges, bananas and mango. Unfortunately we could not get a guava so we had some guava juice instead.
History Day
Today the school has enjoyed our history day. All of the classes came together in the hall to show off our costumes. It was great to see the fantastic effort made by everyone. In year 1 we had everyone from King Arthur to Margaret Thatcher to the king of rock and roll, Elvis and we spent the morning sharing the information we had researched about our characters. Well done to you all for your fabulous costumes, you were all amazing.
Making Jam Sandwiches
In our English lessons we have been learning about writing instructions. So we followed the instructions that we had wrote ourselves and we are pleased to say that we ended up with perfect jam sandwiches which we then got to eat and they were delicious.
Sponsored Fitness Challenge
On Tuesday the whole school took part in a sponsored fitness challenge which consisted of 1 minute each of spotty dogs, leg drivers, press ups and star jumps. We then had a school assembly, where we got to meet our visiting athlete, Sally Scott, who is a champion pole vaulter. Sally told us all about her career and then answered questions. Thank you to everyone who sponsored the Children.
Tide is Turning
Today we have been learning a song called 'Tide is Turning' which we sung to the tune of 'Frère Jacques'. Our singing was beautiful! After we had learnt the song we clapped out the rhythm and finally we played the tune with various musical instruments.
Our Last Week in Year One
What a busy last week we have had in year one. We have had fun playing in the sun with the parachute, on Tuesday we had a farewell party for Herbie who is leaving us to go to a new school. Good luck Herbie, we will miss you. On Wednesday we celebrated our year 6 leavers mass. Then on Thursday the whole school came together for our Summer Festival. We hope you enjoyed watching it as much as we enjoyed performing for you all. Mrs Watson, Miss McMaster and Mrs Golightly would like to thank you all for your support throughout the year and for all of your kind and thoughtful gifts. We wish you all a happy and safe summer holiday.