Welcome to Reception Class 2016-17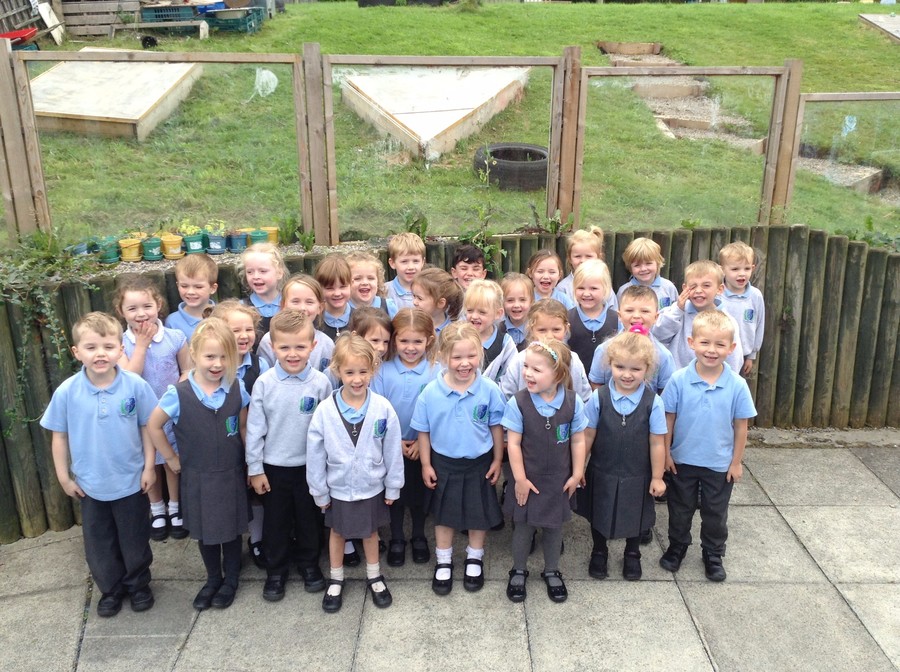 Our try in Year 1
This morning Reception class spent some time with their new teacher Mrs Watson and Mrs King in Y1 classroom. They talked about their favourite things. They made sticky labels with their names on and listened to a story. A good morning !
Nursery Visits
Last week the Nursery children had their visits into school for their little try of what Reception class will be like in September. The children were all buddied with a current Reception child who looked after them for the session and showed them around. A special mention does need to go to Maisie B,Eliza, Isla J Finn, Abigail H and Alfie R who were AMAZING buddies for their Nursery children!
Here are just a few of the things we got up to...
Rebecca Martha and Isla were super mini beast investigators looking for Bumble bees, snails and Woodlice in our outdoor area!
Lucas and Kyle loved playing with the Knights in the Castle
Illiana and Roxy both separately made the most fantastic treasure maps
We had some great cooking in the mud kitchen from Emelia
Eva made the most wonderful birthday party for everyone to attend for Miss Acheson!
Rory and Benjamin enjoyed small world play the water tray and making pirate hats!
Mason had a go building with his buddy outside
Lily and Lyla were convinced we had an octopus in the class and made a poster so that everyone might know what he looked like (because he was a bad octopus!)
Florence, Sophie and Elsa had a go doing some beautiful paintings
Elsa also "went on holiday to Ibiza " on Eddie the truck with her buddy!
Dylan and Zach loved the dinosaurs
Hannah loved playing on the pirate ship!
Ivy made a fabulous fairy door for her bedroom, then spotted a real fairy door in our outdoor area!
Pole Vaulting day
Today most of the children got the chance to have a go at Pole Vaulting with Sally Scott our athlete who came in a few weeks ago
Sports day
The Reception children did extremely well on their first sports day. There was some excellent running, hula hooping and throwing and catching! Thankyou to all parents who came along to support their children
An athlete visits
On Tuesday 20th June Sally Scott came to visit our school. Sally has won medals at international level for her Pole Vaulting . Sally and Chris from Elite Fitness put the children through their paces for the sponsored fitness challenge. Then the children had a chance to hear from Sally and ask her questions.
Amazing writing
This morning we have been writing the story of the three little pigs. Some of us have had a go putting our own twist on the story, some are retelling the story themselves and others are describing the places in the story for their writing challenge. Some boys and girls are trying so so hard I am so proud of them. I just needed to share their great work: Maisie B, Maisie M Isla P, Amber, Alfie A, Noah,Mia Francesca, Ellie and Violet
Blaydon Races & an athlete visit
This morning we had a special assembly by Miss Pinnella all about a visitor we are going to get into school in a couple of weeks time called Sally Scott. Please see the letter going home tonight as we are doing a sponsored event with Sally to help raise some money for sports and PE equipment. As part of the event we need to do 4 exercises in the hall - spotty dogs, mountain climbers, press ups and star jumps we had a little practice of this this morning. We need to do one minute of each!
We then talked about the Blaydon Race and had a little go at our own Blaydon race on the playground doing 6 laps round for the 6 miles! We listened to the famous song too!
Election Day
Today we have been learning all about the election. We have thought about what we ourselves would do if we were Prime Minister- some great ideas.
Breandan - I would help the doctors make people better
Isla P -I would make more songs so everyone in the country is happy like Manchester
Georgina - I would make all the children say their prayers so God can hear them more clearly.
Violet: I would make the country happy
Vincent : I would make more Police
Isla J : I would let children have dinner at home so they don't have to have school dinners
Eliza: I would help the gymnastics teacher teach more children
Abi: I would give everyone sweets
Mia: I would look after the world
Zeke: I would give everyone a Mercedes
Pippa: I would make everyone happy
Francesca: I would make everyone in the world share
Isla H: I would make sure all the children in the world went to school because school is important
We then made our own Rosettes for either ourselves or to show support for our friends. We then had a go at a class election to votes for Reception's Prime Minister. The vote was very split 15 children received a vote. The overall winner with 4 votes was Noah!! He got to answer questions from "reporters" Vincent asking "what will you have for dinner " the reply was Pizza !! Isla P - asking "what will you do first Prime Minster?"- make decisions Noah replied! He then in his first role in office chose our end of the day story!!!!
b and d
A lot of children in reception and still in Y1 find remembering which is "b" and which is "d" really tricky in both reading and writing. This is completely normal at this stage whilst children are still learning their sounds and their letter formation.
I know some children have had this as their target for their next steps this term too so are already really trying with this.
Here are some little ways of remembering that may help support your child overcome this:
Holding the chicks.
This afternoon we had a little hold of the chicks to practice how to hold an animal like a chick correctly. The children had a little try even some who were unsure at first - Ben ,Alfie R and Pippa -very proud!
This is what we thought:
Summer- It feels so furry and its feet were really sticky.
Isla J - It shaked up in my hands !
Abigail- It feeled so soft
Violet- It felt furry
Mia - It was so nice and furry
Alfie R- It was so fluffy!
Ava- I loved it !
Wonderful writing
Last week we started learning about Living things with our Chick delivery. We all had a go at writing sentences on Friday to retell the story of Chicken Licken. The children are getting great at writing in sentences so the challenge now is to have a go writing longer pieces.
I just had to share these three with you as they were just fantastic ... Isla P's Maisie B's and Francesca's - so proud!!
Summer term 1
Welcome back I hope you had all had a restful Easter break. This week we have started our learning about Living Things. We had a special delivery on Monday of an incubator with 10 chick eggs inside.
7 eggs have hatched and the children have helped choose their names: Reuben, Diego Costa, Rosie, Tommy, Maisie, Dash and Mr Chick!
We have loved watching them hatch and seeing them grow and play with each other. Although we do have one that is quite unkind to his brothers and sister so the children keep telling him to" please stop!"
Having the chicks in has really inspired the children this week. We have had the most fabulous incubator's and "sofa's" made in the gluing area as well as lots of signs saying "shhhh chicks sleeping " and "Reuben please stop being unkind!" Ellie even wrote a card saying "To chicks thankyou for hatching!"
Summer term Curriculum News
See below for our Curriculum newsletter on everything we are learning this half term
Easter
This week we are looking at a little section of the Easter story every day- treating this week as our holy week. We started off yesterday acting out the story of Palm Sunday. Vincent was Jesus, Summer the donkey, Breandan and Maisie were disciples and Andrew was the donkey owner. We enjoyed making our own palms and waving them shouting hosanna! Then today we have looked at the Spy Wednesday story when Judas betrayed his friend for 30 silver coins. Francesca and Maisie were great as the people who worked in the temple and Joshua made a great Judas. We talked about how Judas was not a very nice friend to Jesus by telling the bad people where he was. We will continue the next part of the story tomorrow in our RE work.
We have also been making Easter cards, Easter bunny ears, doing Easter number Jobs and even making our own Palm Sunday inspired Palm tree(Georgina) !!
History Day
Today has been History day. The children all looked amazing in their costumes- huge thanks to Mam's and Dad's and Grandma's who helped with these.
We had a huge range of characters from Che Guevara to Anna Pavlova to Grace Darling to RJ Mitchell (the inventor of the Spitfire)! See photos below.
I never thought I'd see the day that Florence Nightingale and Neil Armstrong would play so happily with Anna Pavlova in the water tray !!!!
W/C 12th March
This week has been so busy. We have started the rainbow challenge where each child is working towards completing their own rainbow for their name by completing special challenges. This is to encourage children to have a go at new areas that they may not other wise have a go at. This weeks challenges have been to : rescue stars from alien goo using our fine motor skills. Make either a shooting star or a telescope in the gluing area. Practice our number skills thinking about different ways we can make the same number using the dominoes . The children have worked so hard on these challenges this week.
Then today we have thought a little about St Patrick's day in our ongoing work on British Values. We had a little watch of some Riverdance then the children wanted to have a go making their own Irish dancing show. They even made tickets and charged for entry - fantastic! We have been making our own leprechauns and seeing if we can spot a lucky 4 leafed clover in our outdoor area!
The children have also been really interested in perfume and potion making in the outdoor area so we now have a very busy potions lab running !
Space
This week we have started our learning all about Space deepening the children's interests following lots of Jet Pack making and Telescope making last term. We have our own spaceship in the classroom and have been role playing travelling into space. We have made the most amazing rockets and some children have even made the moon and the sun in the gluing area! We have been sharing our space information book and doing pastel drawings of the planets on black paper. Ellie and Isla H have even made jet packs to send Reuben and Christian into space complete with buttons that the boys can press if they are hungry ( and a picnic basket comes out) if they are tired and want a sleep (a bed pops out the jet pack!) Future inventors for sure!! We have thought about what things we would take if we were going into space with sparkly dresses and dollies as top of our lists!!
Ash Wednesday & Our Library Visit
This morning we have had the busiest morning! We visited the library as part of our book week learning. We listened to two stories in the children's section read by the librarian and we all took a new library book out to keep in our trays this half term. The children thoroughly enjoyed their visit - we talked about our best bits when we got back ... for Zeke it was choosing the stars wars book(!) For Maisie M she loved choosing her school book and for Ben it was a Oliver Jeffers book that he chose called Stuck. Many thanks to Crawcrook library for having us.
We have also talked about how today is called Ash Wednesday and it is the start of Lent. The children spotted our cloth on the prayer area has now changed to purple and we worked together to make our own Ash Wednesday handprint cross to help remind us we are now in Lent. Mr Laidler came down and did a special liturgy in the classroom for us and gave us our ashes on our foreheads.
Finally we had a little talk about how it is a special day in another part of our country in Wales as it is St David's day today! We looked at our map t find Wales and some of us have had a go at making Welsh flags to celebrate with our welsh friends!
Book Week
I hope you have all had a restful half term. This week is book week with world book day on Thursday.
Please see below for the half term book week challenge to be handed in on Monday
We will be visiting the library on Wednesday morning as part of our book week focus!
Our visit to Newcastle Castle
Today, on quite possibly one of THE coldest days, we had our class trip to the castle in Newcastle. We learned loads about the different roles within the castle and why the castle was built where it is. We climbed a LOT of steps to get to the very top and even did a bit of dancing in the Great Hall. We even had Mrs Watson in the stocks in the dungeon and Mr Laidler dressing up as a knight !! Despite the cold, the view from the top of the keep was just unbelievable and we all had such a great day! Many many thanks to Mrs Proud for coming to help out and to all the other staff helpers without whom our trip wouldn't have been possible.
Here are some of our favourite bits:
Vincent,Amber and Violet all liked "when we went up on the roof"

Breandan, Noah and Summer loved packed lunch time!!

Isla J liked "when we heard the guards voice."

Joshua liked "when we were trying to get in the castle, " and the ladies were telling us all the different ways the soldiers and designers of the castle have made or would make to stop bad guys entering!

Eliza liked seeing the two actors fighting as knights

Ellie, Ben and Abi loved seeing Mr Laidler dressed up as a knight!!
The "Bad Fairy's" visit & Ballet dancing
This morning, we had a special letter from the "bad fairy" in Sleeping Beauty. She had asked if the children could help her with a special writing challenge to label her potions /write instructions for creating them. She also asked if she could have Fred the Frog to go in her next potion! The children couldn't have that, so we did our best writing to ensure she wouldn't get anymore cross! See below for just two examples of our fabulous writing. The children then wanted to make their own tricks and potions to keep her away and Isla J painted the most fabulous portrait of the bad fairy so we would all know what she looks like!
Then this afternoon - lots of the children have been really interested following our ballroom dancing in having a go at some other types of dance. We have been making ballerinas and creating "ballerina" dances too. As a result, Miss Acheson thought the children would like to see some real ballet shoes and brought in her old pointe shoes. Georgina, Ellie, Laila, Maisie B , Isla H and Francesca all had a go trying on the shoes and (with a lot of help) stood "en pointe" !! Like real ballerinas !! Alfie R, Caitlyn and Mia all wanted to have a try too but we just ran out of time-maybe next week!!
Elena of Avalon , Ballroom dancing and Growth mindset
This week, following the children's lead, our learning has turned towards Elena of Avalon. The children have made the most fantastic "Sceptres" in the gluing and painting - indeed Francesca's is a step up from Elena's and is multi-functional (!) unicorns, mermaids, fairies, princesses and pet animals all can come out of Francesca's magical sceptre! We have also had some jet pack making and telescope making too in the creative area ! Our story this week has been Sleeping Beauty and the children have even had a go at a little ballroom dancing in the outdoor area! They listened first to the music and then Georgina and Noah really led their friends in the paired dancing!! We even then had a house band in the form of Breandan, Zeke and Finn!
We have had a real focus on "Growth mindset" this year as a school - trying hard to always have a go at things , not give up and always really try to improve our work ! Since the holidays, I cannot believe the improvements the children are showing from day to day - every model Isla H makes seems to better than the last one, Abi made a fairy last week then went back and made another the day after but really worked on improving it herself (all through her own self assessment) fab Abi! Ava made the most amazing crown in the gluing area last week editing and improving the one she had previously made with Mrs King. Maisie M's drawing is almost unrecognisable from her September work ,which just shows how hard the children are working and what an amazing attitude towards their learning they are developing - and its only January!!!
Fun in the snow
This morning we had a little play out in the snow. We loved investigating how we could make the biggest snowball and seeing the effect of the cold weather on our outdoor area. Laila had a go making a snow tower with her friends , Alfie R found Mr Frost's hand prints in the snow - he thought he was the one responsible for bringing the snow! Francesca made a snowman and a snowdog. Lots of the children enjoyed throwing snowballs and Ben even made "Kinder egg" shape snowballs ! See below for some more pictures of this morning wintry fun.
Spring term
Welcome back! We trust you had a great holiday and best wishes for the new year! Thank you so much for all your generous Christmas cards and gifts.
We begin this term with a new topic that the children chose to learn about - "Once upon a time" we will be learning all about Castles, Knights, Princesses, Fairies and all things magical! We even have our own "Magic House" that has been overrun by fairies and our own role play castle! Please see the curriculum news below for more information about our learning this half term.
reception curriculum planner spring 1 2016 17.pdf
We will also be going on school trip on Monday 23rd January to the Castle in Newcastle to further deepen our learning so look out for the consent letter coming out shortly.
Christmas Party day
Today has been party day! We have had lots of fun dancing in the hall with Disco Don and playing party games!
Carol Service
Tomorrow is our school carol service at the church please fell free to come and join us at church. Children are free to go home straight after the service if they have someone there to collect them.
Special Friends
Whilst many of the children have brought presents in for special friends which is so lovely- a quick note to just say it is not something children have to do and some of the Y6s have bought things out of their own pocket money but please don't feel obliged to have to buy a present too
Whoops a Daisy Angel Dress rehearsal
This morning we had our dress rehearsal in front of the whole school the children were so good ! I even spotted a few teary eyed adults at the end! Our real performance is tomorrow at 2pm!
Whoops a Daisy Angel
We have been busy practising the songs for our Christmas play - "Whoops a daisy angel" parts went home this afternoon including costume requirements. The words for the songs can be downloaded below and our clever IT man Ross has uploaded the song files themselves onto Google drive so you can download these too to practise at home!
Whoops a daisy songs to download
The Police visit & a visit from Dr Hannah
This week has been such a busy week as we had a special visit on Monday morning from the police! PC Hyde and his collegues brought 3 vehicles for the children to see, the police car, riot van and the dog handling van complete with two police dogs! We had a go in the back of the riot van and putting the sirens on and loved stroking the police dogs. PC Hyde even let us try on his Police uniform. We talked about how we should never talk to strangers and that most importantly the police are there to help us. A huge big thank you to PC Hyde and his colleagues for giving up their time Monday morning to share their work with the children. Following this, our new role play police station was opened on Monday afternoon and the children have loved having a try at being a real police officer, taking finger prints and locking bad guys (including Mrs Watson and I !) in jail!
Then today, Miss Acheson's friend Dr Hannah came in to talk to us about how doctors help people. She shared her doctors tools with us and we enjoyed having a go playing being the doctor and patient! Thankyou so much for coming in again Dr Hannah. We have a resulting doctor role play too now, so Reception children are on hand to help in most circumstances now!!
Our Fire station Visit
This morning we went on our first proper trip out in the school minibuses to Prudhoe fire station. The children were fantastic on the buses and at the fire station. We had a go trying on the special uniform. Vincent tried the heavy steel capped boots on, Isla H tried the jacket on and Joshua tried the trousers on . Breandan and Noah tried the helmets on and Finn the special balaclava that they wear inside the helmet. We saw all the special equipment that the fire fighters take with them on the fire engine and even had a sit inside. Some of us tried holding the equipment including the walkie talkie! We then had a go squirting the hose and had to cover our ears when the sirens came on !! A huge big big thank you to all the firefighters at Prudhoe fire station for the most fantastic morning! I think we have a class of wannabe fire fighters now!!
Here are some of our best bits!
Isla J, Alfie R, Laila and Amber loved sitting in the fire engine
Summer , Isla H and Ava loved the noisy siren !
Ben loved "putting the hose at the trees"
Noah loved "putting the visor helmet on"
Violet liked seeing all the different things on the fire engine and Eliza just liked seeing a fire engine up close!
Reviewing our learning
On Thursday morning we talked about everything we have been learning in our first half term at school these were some of our favourite things...
Ellie : I liked painting superted
Abi : I liked playing outside with Andrew
Isla J: I liked singing with Mrs Banning
Alfie R: I liked playing in the Batcave
Andrew: I liked painting and gluing superheroes
Estelle: I liked playing outside with Caitlyn and Mia
Mia: I liked playing with Summer and Violet at dinnertime on the big playground
Summer: I liked playing in the batcave
Finn and Noah both liked playing in Superhero HQ
Alfie A: I liked going in the golden box!
Zeke: I liked the construction
Joshua& Ben both liked going in the gluing area
Pippa: I liked playing on the pirate ship
Vincent: I liked going in the painting- I love my Batwing!
Breandan, Isla P & Georgina all liked PE with Mrs Henderson best
Laila,Francesca& Violet all liked the home corner the best
Maisie B: I liked dressing up as Batgirl
Ava : I liked playing in the dolls house
Our play has started to change this week a little , some of us have been playing hospitals and some of us have even played being teachers !
Our first trip and Signs of Autumn
This morning Miss Acheson's family group have been looking for signs of Autumn in the grounds of the school. We found lots of beautiful coloured leaves, berries and even some acorns and fungus!The children thoroughly enjoyed looking at how our school grounds are changing as the weather changes- lots of great discussion and investigative skills used! The children then chose to sort our findings into groups by colour then Francesca had the great idea that we could use our findings in the mud kitchen to make autumn recipes!
Yesterday we had a special science focus morning. A letter arrived from Mr Freeze telling us he had kidnapped the superhero figures. We found them in the "deep freeze" in solid blocks of ice . The children then had to investigate how we could get the superheroes free! We then had to "ring" the police to get Mr Freeze taken away so he could cause no more damage to our favourite superheroes!
We had our first class trip this afternoon to Crawcrook library. The children were great walking down with their buddies then listening to the story when we got there. They all picked up their special book trust packs and got to choose a library book each to love in their tray at school.
W/C 3rd October
This week has been another busy one in Reception Class. We have further deepened our learning on superheroes, making our own superheroes in the gluing and painting, cutting and gluing superheroes and using the stencils to make superhero comics. We had a special letter from Superman on Monday morning with a parcel of things to help us play supereheroes without hurting our friends "bat spray" "laser glasses" to name but a few ! We had our first "family group" sessions both inside and outside where we make our own plans of what we want to do then follow them through and share our learning at the end . We had a vast range of activties undertaken all following the childrens own plans - making our own emergems in the outdoor area, making superhero potions in the mud kitchen , building tunnels and caves for hideouts and even a ballet lesson courtesy of Ellie!!
Thankyou to all parents who have sent wellies in , we have started having to say no wellies no grass unfortunately as the grass struggles to dry during the day so please could you send in wellies for your child if you havent already to enable all children to access all the areas outside.
Reading books
Tonight all children (who have brought a bookbag to school) will be sent home with their first school reading book. Please can you read with your child over the weekend then send your child in with their bookbag on Monday ready for us to read on Monday with them.
To begin with the children may have a book with just pictures to read, this is to help them with their description, to develop their vocabulary and practise speaking in sentences. Encourage your child to tell you the story out loud; ask them questions about things that happen or what they think about some of the characters in the story.
They also have a special laminated card with the characters names and pictures on to help them learn the names off by heart this should live in their reading record and be practised too so they are not sounding out character names just saying them.
In school we will be teaching a range of strategies to help your child learn to read learning sounds and blending them to make words, learning red words by heart (tricky words that you can't sound out and using the pictures to help us understand what we are reading. Please help your child to sound out the letters in words and then to 'push' the sounds together to make a whole word. Try not to refer to the letters by their names. Help your child to focus on the sounds. You can hear how to say the sounds correctly by clicking the link below
There will be further information and guidance on how we teach reading at the parents session on Thursday 6th October at 4.30
Roald Dahl Day
Today we have been celebrating Roald Dahl day at St Agnes School. Reception Class have been watching the story of The Enormous Crocodile. We have learned who the characters in the story and all about the enormous crocodiles tricks! We have been doing careful cutting of crocodile teeth and some of us have made our own Roly Poly Birds and Crocodiles in the creative area.
Our first week
Welcome to Reception class 2016/17 !! This week all children are in for half day sessions. We are only at the end of day 2 and the children have settled very quickly into the Reception classroom! We have been building in the outdoor area, painting self portraits,making new friends and lots of gluing models and exploring all the new areas in the classroom .. see below for a little flavour of our first couple of days.
Starting School for New starters 2017/18
A few parents expressed at the New Parents Meeting that they wanted to know what else they could be doing over summer to get their child ready for September
Teach him/her to dress and undress.
Let him/her practice fastening and unfastening buttons and zips, putting on shoes and fastening buckles.
Make sure your child knows how to go to the toilet and that he/she can manage when he/she gets there.
Please teach him/her to flush the toilet and wash his/her hands afterwards.
Please send your child to school with a handkerchief or paper tissues and teach him/her to blow his/her nose.
Helping with Learning
Talk to your child whenever you have the chance- about what is happening today, tomorrow, things that happened when you were little or when they were younger. Get them talking about "the past" (yesterday/last weekend) and the future (tomorrow/next weekend)
Ensure that big brothers and sisters let your child speak for themselves if they need help with anything
Read to him/her each day. sit still and listen for a short time. Talk about which way to open the book, the pictures, ask what is happening in the story.
Go to the library together to get out books and take part in story sessions.
Give him/her crayons and pencils. Let him/her draw and paint.
Let him/her make things with small boxes, tubes and cartons. Encourage him/her to help you in everyday routines like tidying up, setting the table, unpacking the shopping.
Count and sort everyday things in your house together.
Please see these top tips below too :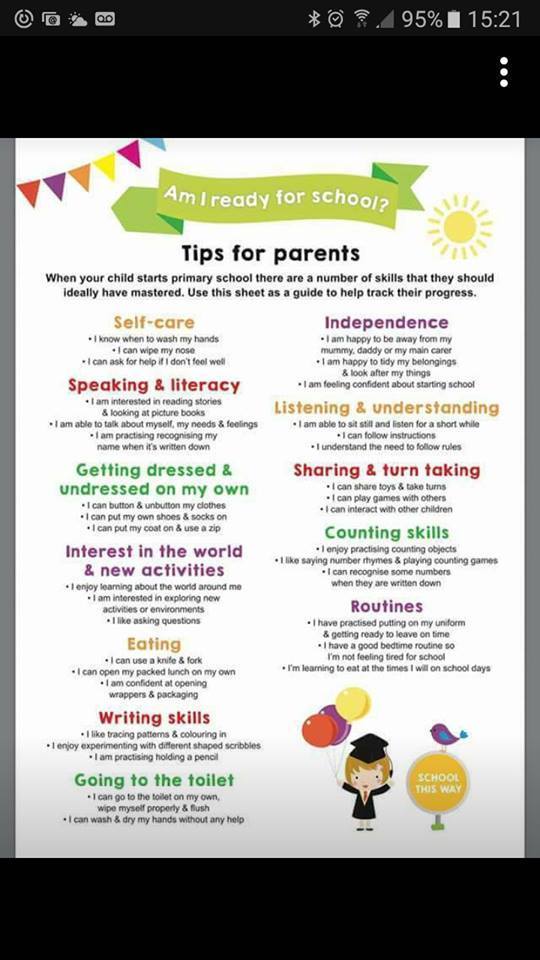 Please see below for some more ideas to help with counting and number recognition
Counting and Number Recognition
Please see below for some more ideas for reading , sounds, writing and listening
One last thing that we always have a HUGE focus on in the Autumn term is ensuring not only that children can ask for help if they need it. But that they always say Good Morning to the adults when they come in, and please and thank you to each other and to the adults too.
New Starters 2017/18
The Nursery visits start on 3/7/17 and are Monday afternoon, Tuesday morning and afternoon sessions, Wednesday morning and afternoon sessions, Thursday afternoon and Friday both morning and afternoon sessions. Your child should attend 2 sessions that were chosen at the new parents meeting last Monday. Drop off for sessions is at the school office and pick up is also from the office for these sessions.
Thank you to all the new parents who came to the new starters meeting on Monday 26th. It was great to meet everyone following my visits into the nurseries to meet the children.
After speaking to several parents about this... please do watch this space for some activities and ideas of things to start doing with your child over the holidays in readiness for September.
Summer 2 Next Steps
The children have all got a copy of their new targets for their last half term in Reception. These are going home in book bags tonight(Friday). Most children now have a reading, writing and number target to work on now in readiness for Y1.
As always please see enclosed, with the targets, some activities to help you support your child at home with their new next steps
Summer Term 2
Our new topic is called " Here there and Everywhere" we are thinking about journeys and holidays and going to visit different places.
We have had a focus on cars this week, making race tracks, making model cars and car stories. We have a new role play Holiday cottage and a seaside café!
Our Farm Visit
Yesterday we had the most amazing day at Down at the farm. The weather was beautiful albeit a little cold but the children thoroughly enjoyed themselves.
First we had a go feeding the baby lambs, then we had a go holding the bunny rabbits and the farm chicks (who were a little bit older than ours) Then we helped wash the pigs and groom the donkey. We had a go on the mini tractors then we had a real ride on a proper tractor out to visit the cows and their new baby calves . Finally we had a go on the playground! The best day! So many sleepy children on the minibus on the way back!
Here are some of our thoughts and feelings of the day
Breandan : I liked playing on the playground and looking after the baby lambs
Ava, Ben and Pippa: I liked holding the bunnies
Laila : I liked holding the bunnies and the chicks and going on the tractor
Noah: I liked holding the chicks and going on the little tractors
Violet, Isla H, Amber,Finn: I loved everything
Summer: I liked sleeping in the minibus(!)
Abigail: I liked cleaning the donkey
Maisie M: I liked holding the bunnies and going on the big tractor
Abi: I liked cleaning the pigs and holding the bunnies
Estelle: I liked the little tractors
May pole dancing
To celebrate the beginning of May -Reception had a little go at some Maypole dancing this morning in the outdoor area ! We have also been thinking specially about how in the month of May we remember Jesus' mother Mary and have made the most beautiful flowers to go round Mary in our Prayer area
Our Spring 2 Next steps
Tonight all the children have a special envelope in their book bags with their new targets inside to work on. This is what they are currently working on in class.
Any new targets for this half term are next to a spring coloured dark or light pink and pale green coloured footprint. If your child is still working on some next steps from the previous term these remain on the autumn colours red, yellow and orange or the winter colours of blue and purple.
I have also enclosed some activities to help you support your child with their new next steps should you want to.
Please watch this space for further activities to help support you in this.
Pancake Day
This morning all the children had special "Pancake Day jobs." We had to help measure the right amounts of flour and milk. Then we had to sift the flour to make sure there were no lumps. We all had a go using the whisk to make the batter. Then the best bit of all was eating them once we had seen how Mrs King cooked them on the hob in our outdoor area!
Our next steps
This evening, all the children have taken home a special letter with their new targets in for the next half term. These are the three things that we are working on in class specifically to help your child move on in their learning.
Some have just one, others have two and some even are ready for three brand new steps to work on which is just fantastic!Any new targets for this half term are next to a winter coloured blue or purple coloured footprint. If your child is still working on some next steps from this half term these remain on the autumn colours red, yellow and orange.
Every child has a number target, a writing target and an "other " target specific to their own learning.
Please see below some i pad games that can help with number and shape targets :
Help with shape:
Number recognition
One more and one less than and adding
The following are best played on a computer:
For number recognition
Gingerbread man counting,ordering and matching
Ladybird spots counting matching and ordering
For practising adding
The numberjacks on you tube are also very good for helping children recognise numbers.
Please watch this space for more information to help support your child with their writing targets.
Investigating Ice
This past week has been so cold but has not stopped Reception class from wanting to play outside. This morning heavy frost led to some fabulous investigation work on how we could "get rid of the ice" on the glass panels. The girls tried rubbing it then they tried scraping with spades then finally they found mud kitchen water to be very effective! Isla and Vincent also wanted to "break the ice" and set about making a magic potion to achieve their aim! Zeke and Breandan entertained us with "ice skating" and Estelle updated her mud kitchen recipes to include some iced tea and iced bicuits!
Parents session on reading and Phonics
Thanks to all parents who attended tonights Phonics and reading meeting. Please see below for a copy of the powerpoint and the guidance notes that were given out at the meeting.
Powerpoint on teaching of reading
As a little recap... Initially all children learn the single sounds, they then learn how to blend these single sounds in words(short 3 letter words such as cat, mat, mad, sad). Firstly by hearing the teacher or adult sound out/fred talk the word for them (assisted blending) eg m-a-t then telling them the word mat so they can hear how words sound when they are broken into sounds. The children copy saying the words like this for a short period. They then have a go telling the adult the word from the sounds they can hear. This then progresses further to them reading the sounds then blending the sounds together themselves to say the whole word.
If your child is struggling to hear the word even though they can say all the sounds in the word but then they say something random it is helpful to go back a step and repeat the sounds back to them they have just read can ask them what the word is. Often the children know the sounds but the independence in blending isn't there just yet but hearing someone else say the sounds for them they can then hear the word.
Following this digraphs (2 letter sounds) and trigraphs are taught. sh, th, ch, qu , ng,nk. Then they start set 2 sounds igh ow oo oo ee ay. This then leads on to ou or ar ir oy air. All the time practising blending these sounds in words.
At this stage we would not teach the alphabet or the "letter names" as they do not help children to read - these are taught much later on when children become confident in blending sounds together to make words.
The sound cards we use can be bought from Amazon along with a parents guide. I believe they are about £2 a pack . They are made by Ruth Miskin and come with green words for the children to practise blending too.
http://www.amazon.co.uk/Read-Write-Inc-Home-Flashcards/dp/0198386710/ref=sr_1_3?ie=UTF8&qid=1444337034&sr=8-3&keywords=read+write+inc+speed+sounds+set+1
http://www.amazon.co.uk/Read-Write-Inc-Phonics-Flashcards/dp/0198386818/ref=sr_1_4?ie=UTF8&qid=1444337034&sr=8-4&keywords=read+write+inc+speed+sounds+set+1
http://www.amazon.co.uk/Read-Write-Inc-Phonics-Handbook-Help/dp/0198386702/ref=sr_1_1?ie=UTF8&qid=1444337143&sr=8-1&keywords=read+write+inc+parent+guide
Please also see the document below for the pictures which accompany the sounds for set 1 and set 2. Blending can be practised by getting your child either to make the words with magnetic letters on the fridge or in the bath or by writing them down or by doing it orally. See the document below for some word lists you can challenge your children to practise blending and spelling this half term !!
Finally the children are expected to know some words by sight - red words we call them.. the words you cannot sound out. Please see below for the red words we are working on too. The children are expected to be able to read the red words initially and then to be able to write them too.
green words to practise blending
Some phonics games to practise sounds and blending
Also, see below for a list of suggested stories for storytime Whether they are read to or have a go reading themselves - just having the opportunity to hear and absorb quality texts has huge impact on the children. As if they have not got a good bank of stories in their heads already to draw from how can they be expected to eventually write and create their own?!
143_Stories for storytime.docx
Sound and Word books went hoem last Friday the children all have 2 words and 2 sounds to learn how to read. They just need to be able to recognise and say the words when they see them. One word is always a red word that cannot be sounded out the other is always a high frequency word that the children can sound out. So the first weeks red word is "I" the high frequency word is and. Please encourage the children to see these as whole words that they just need to remember not sounds and not alphabet letters .
Our First singing session & our first Little Kickers session
On Tuesday afternoon we had our first PE session with Mrs Henderson, we worked really hard following instructions and on our listening skills. Then on Wednesday we had our first singing lesson with Mrs Banning. Mrs Banning was blown away by the children's nursery rhyme knowledge ! They sang Twinkle Twinkle and Baa Baa Black to name but a few! Then this morning (Thursday) we had our first Little Kickers session with coach Connor. The children really enjoyed learning new ball skills and tried really hard. Indeed Vincent said it was "amazing!"
Curriculum News
Please click below to see all the areas we are working on this half term