Welcome to Reception Class 2017-18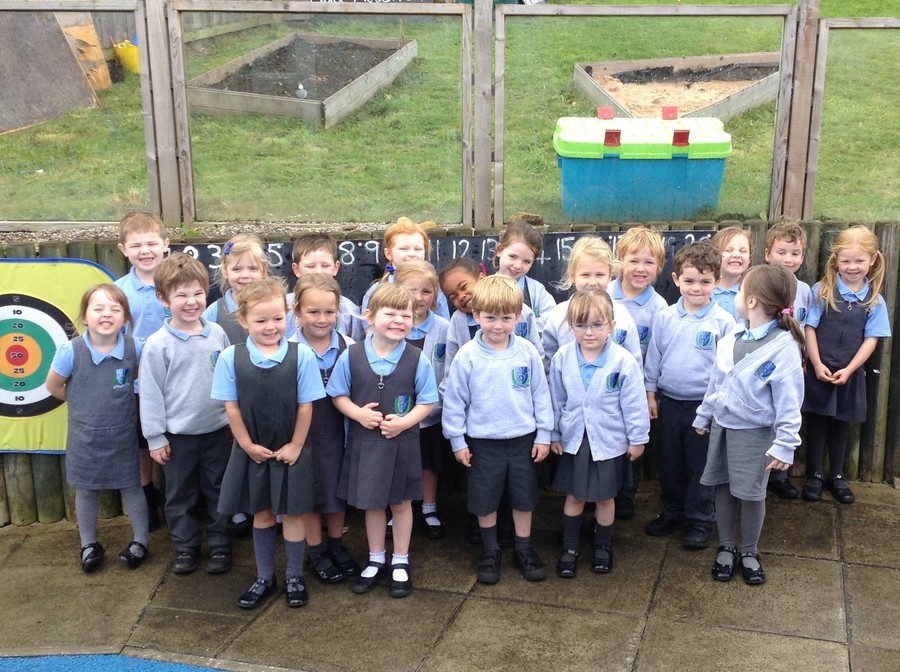 Our Class Twitter Feed @StAgnesRecClass
Reviewing our first half term
This morning we have been reflecting on some of the things we have been doing in our first half term at school. Here are a few of our best bits!
Rebecca: I loved going to Jurassic Kingdom and seeing the big diplodocus
Lucas: I loved Jurassic Kingdom
Florence : I love playing with Violet and Pippa on the big yard
Lily: I liked Jurassic Kingdom and seeing the big dinosaur!
Dylan: I loved Jurassic Kingdom and seeing the T Rex
Kyle: I liked French day
Elsa: I like playing with Evie in the big yard
Ivy: I like playing with my special friend Dylan its the best time
Eva: Playing in the home corner with Florence and Lyla-when we were pretending it was Lyla's birthday
Benjamin: I liked Jurassic Kingdom, I liked the naughty dinosaurs with the mummy one
Rory: I liked seeing the T Rex
Isla& Emelia : I liked Little Kickers
Reading the picture books
Following on from the parents meeting on reading and phonics.-A little bit more guidance on sharing and reading the picture books with your child. Please click the link below to see our fabulous Eva- showing us all how its done telling us the most fantastic story that flows beautifully.
Try to get your child to look at the whole picture first before they start saying what is happening so they can have a go at telling a story that flows rather than just needing prompting on every page. If they can make links to things they know or have seen before fantastic. Sometimes your child might need the story "told" to them first before they have a go and then they can see how its done and can pick up on overviews of "where they are at now" or"what they are doing" that they may not have noticed before.
Europe Day
Today we have been learning about France -our special country for Europe Day. We have been making our own Monet pictures (complete with ducklings and other pond creatures!) We have had a go making famous french landmarks and had a try at some french food. We tried French Bread, Brie, Brioche, Croissants and Crepes- a big thank you to Mr Shepherdson for the crepes and croissants. All of the children had a little try of the foods and then drew a happy,straight or sad face to say if they liked it or not- chocolate chip brioche was extremely popular!!! We then learned Frere Jacques ,made French flags and had a little french lesson with Madam Innerdale learning to say Je m'appelle .. and to answer Ca-va - how are you. .. what a busy day!
Phonics and Reading
A huge thank you to all the parents who attended the Parent session on Phonics and Reading this afternoon it was fantastic to see so many of you here. Please see below a copy of the Powerpoint and the Handout notes. The Ruth Miskin website has lots and lots of resources on too to help support with reading and phonics.
letter about phonics for parents.doc
parent presentation 10 10 17.pptx
http://www.ruthmiskin.com/en/resources/tag/parents/
As a little recap... Initially all children learn the single sounds, they then learn how to blend these single sounds in words(short 3 letter words such as cat, mat, mad, sad). Firstly by hearing the teacher or adult sound out/fred talk the word for them (assisted blending) eg m-a-t then telling them the word mat so they can hear how words sound when they are broken into sounds. The children copy saying the words like this for a short period. They then have a go telling the adult the word from the sounds they can hear. This then progresses further to them reading the sounds then blending the sounds together themselves to say the whole word.
If your child is struggling to hear the word even though they can say all the sounds in the word but then they say something random it is helpful to go back a step and repeat the sounds back to them they have just read can ask them what the word is. Often the children know the sounds but the independence in blending isn't there just yet but hearing someone else say the sounds for them they can then hear the word.
Following this digraphs (2 letter sounds) and trigraphs are taught. sh, th, ch, qu , ng,nk. Then they start set 2 sounds igh ow oo oo ee ay. This then leads on to ou or ar ir oy air. All the time practising blending these sounds in words.
At this stage we would not teach the alphabet or the "letter names" as they do not help children to read - these are taught much later on when children become confident in blending sounds together to make words.
The sound cards we use can be bought from Amazon along with a parents guide. I believe they are about £2 a pack . They are made by Ruth Miskin and come with green words for the children to practise blending too.
http://www.amazon.co.uk/Read-Write-Inc-Home-Flashcards/dp/0198386710/ref=sr_1_3?ie=UTF8&qid=1444337034&sr=8-3&keywords=read+write+inc+speed+sounds+set+1
http://www.amazon.co.uk/Read-Write-Inc-Phonics-Flashcards/dp/0198386818/ref=sr_1_4?ie=UTF8&qid=1444337034&sr=8-4&keywords=read+write+inc+speed+sounds+set+1
http://www.amazon.co.uk/Read-Write-Inc-Phonics-Handbook-Help/dp/0198386702/ref=sr_1_1?ie=UTF8&qid=1444337143&sr=8-1&keywords=read+write+inc+parent+guide
Please also see the document below for the pictures which accompany the sounds for set 1 and set 2. Blending can be practised by getting your child either to make the words with magnetic letters on the fridge or in the bath or by writing them down or by doing it orally. See the document below for some word lists you can challenge your children to practise blending and spelling this half term !!
Finally the children are expected to know some words by sight - red words we call them.. the words you cannot sound out. Please see below for the red words we are working on too. The children are expected to be able to read the red words and then to be able to write them too.
green words to practise blending.pdf
Some phonics games to practise sounds and blending
Also, see below for a list of suggested stories for storytime Whether they are read to or have a go reading themselves - just having the opportunity to hear and absorb quality texts has huge impact on the children. As if they have not got a good bank of stories in their heads already to draw from how can they be expected to eventually write and create their own?!
143_Stories for storytime.docx
Our first trip - Jurassic Kingdom
This morning Reception went on their first school trip. We got into the minibuses and were dropped off at Leazes Park. We then made our way to the entrance for Jurassic Kingdom. We saw lots of dinosaurs, huge tall tree eaters, small dinosaurs with sharp teeth, baby dinosaurs hatching from eggs and flying ones. Some of the dinosaurs moved and one even winked at Ivy! We heard them roar which hurt some of our ears.. we learned some new names and saw some that we had already been learning about. We found out that some dinosaurs had teeth that were larger than us and thought about why some have horns and scales and others don't. We had a little go in the dinosaur dig and then had our packed lunch in the education tent. We got VERY wet and VERY muddy but we had the best time! Then when we arrived back at school we had a lovely treat because we had the most delicious cakes made by Mrs Dodds for Lucas' birthday (what a great day to have your birthday!) We also had some cakes put aside from the Macmillan Cake & coffee event which we are keeping for our snack on Monday .
A huge huge thank you to Mrs Parker and Mrs Spencer for helping us on our trip.
Special friends
This afternoon the Reception children were introduced to their Y6 special friends. We have special friend time most Friday afternoon's and the children grow to really love playing with their special friends.
Week 2
This week we have all had a go at gluing jobs in the classroom and building jobs in the outside area. We have had a little go working as a team , thinking of our own ideas and being creative. Some super ideas! The children have made a house,(Hannah,Ivy,Martha,Roxie and Lily) aeroplanes (Rory,Lucas,Riley, Kyle,Mason,Dylan,Benjamin and Zach) , a scooter(Florence) a car(Elsa, Eva and Emelia,Lyla, Ilianna and Rebecca) and a slide (Isla & Sophie) with the big building blocks in the outdoor area. In the gluing we have had helicopters, handbags, boats, aliens, telescopes, rockets ... you name it !!! We have been planting seeds in the outdoor area in our choosing time and making the most fabulous mixtures out of rosehips, mud and water going on "holiday to spain" and practising some spanish dancing (Lyla and Eva)We have also done of our most important jobs making up our own Golden rules for the classroom- the children were so sensible and really thought about the importance of sharing, listening and being a a kind friend
Our first full week
This week we have been so busy. We had special carpet spots and our own seat places to learn when we came in on Monday , we are also all in a table group which we have had to learn too. Then we had our first assembly with the rest of the school. We started our sounds on Tuesday and had our first PE lesson Tuesday afternoon. Today (Wednesday) we had our first singing session with Mrs Banning and sang all the new songs so beautifully. Then on top of all this we have been practicing writing our names and labels including ones for potions! (Kyle, Lucas, Rebecca)We have been making shapes (Isla and Sophie) and measuring our feet and our bodies to see who is taller than who (Roxie, Ilianna, Emelia, Eva). We have made houses in the big building (Rory & Mason) and dinosaur worlds in the lego area(Eva& Elsa). We have been making our own songs, (Hannah & Ilianna & Lily) playing superheroes, (Rory, Zach, Lucas, Kyle, Mason, Ivy )and turning the wendy house into a superhero den and digging huge holes in the mud (Mason, Lucas, Kyle, Rebecca) Playing in the water (Benjamin & Dylan)
Our First Day
Please see the two slideshows below for a little flavour of how busy we have been on our first day at school! The children have been fantastic on their first day and Mrs Crilley and I are very proud of them all!
The children have been making things in the gluing rockets(Martha) traffic lights (Dylan- to go with his car game) Creating mermaids(Benjamin) Butterflies (Eva) and even Fidget Spinners(Martha ) in the playdough. Ivy, Sophie , Isla and Emelia all did the most beautiful paintings. We have had some great bracelets made in the funky fingers area from Florence, Sophie, Isla, Ilianna and Roxie. Super peg patterns by Kyle, Emelia, Ilianna and Roxy. Lucas made a great Minecraft house in the lego area. We have had the most fabulous role play in the home corner from Lyla, Lily, Eva, Sophie and Isla. Hannah, Ilianna and Ivy all had a go at some music making. We have lots of small world play from Kyle, Rory, Dylan, Hannah, Zach and Mason. Elsa made a super fish for her Daddy and Florence enjoyed looking at the books in our reading area. Rebecca and Eva enjoyed playing in the water. We were very lucky as it was also Florence's birthday today and Florence's Mammy made cake for our morning snack - a huge thankyou to Florence's Mammy!
Starting School for New starters 2017/18
A few parents expressed at the New Parents Meeting that they wanted to know what else they could be doing over summer to get their child ready for September
Teach him/her to dress and undress.
Let him/her practice fastening and unfastening buttons and zips, putting on shoes and fastening buckles.
Make sure your child knows how to go to the toilet and that he/she can manage when he/she gets there.
Please teach him/her to flush the toilet and wash his/her hands afterwards.
Please send your child to school with a handkerchief or paper tissues and teach him/her to blow his/her nose.
Helping with Learning
Talk to your child whenever you have the chance- about what is happening today, tomorrow, things that happened when you were little or when they were younger. Get them talking about "the past" (yesterday/last weekend) and the future (tomorrow/next weekend)
Ensure that big brothers and sisters let your child speak for themselves if they need help with anything
Read to him/her each day. sit still and listen for a short time. Talk about which way to open the book, the pictures, ask what is happening in the story.
Go to the library together to get out books and take part in story sessions.
Give him/her crayons and pencils. Let him/her draw and paint.
Let him/her make things with small boxes, tubes and cartons. Encourage him/her to help you in everyday routines like tidying up, setting the table, unpacking the shopping.
Count and sort everyday things in your house together.
Please see these top tips below too :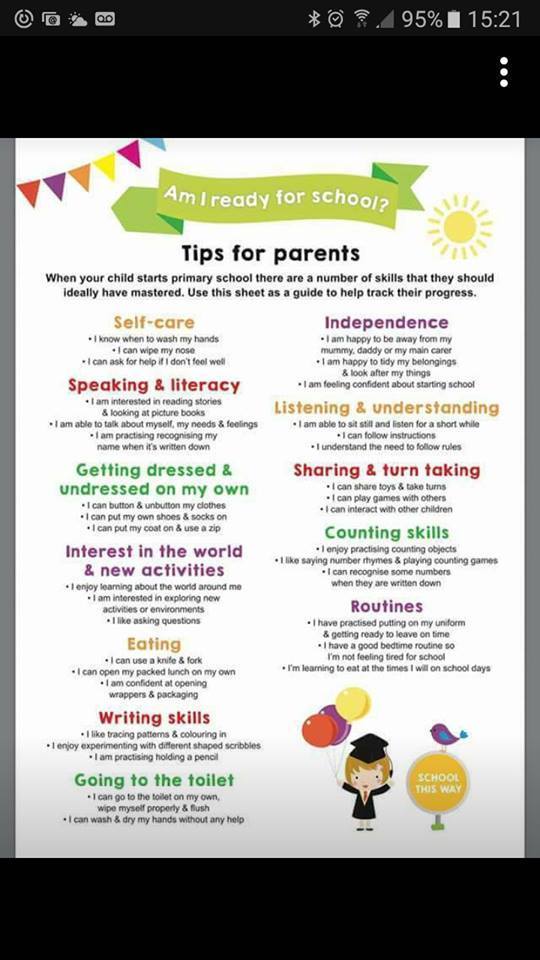 Please see below for some more ideas to help with counting and number recognition
Counting and Number Recognition
Please see below for some more ideas for reading , sounds, writing and listening
One last thing that we always have a HUGE focus on in the Autumn term is ensuring not only that children can ask for help if they need it. But that they always say Good Morning to the adults when they come in, and please and thank you to each other and to the adults too.
Curriculum News
Please click below to see all the areas we are working on this half term