Welcome to Year 6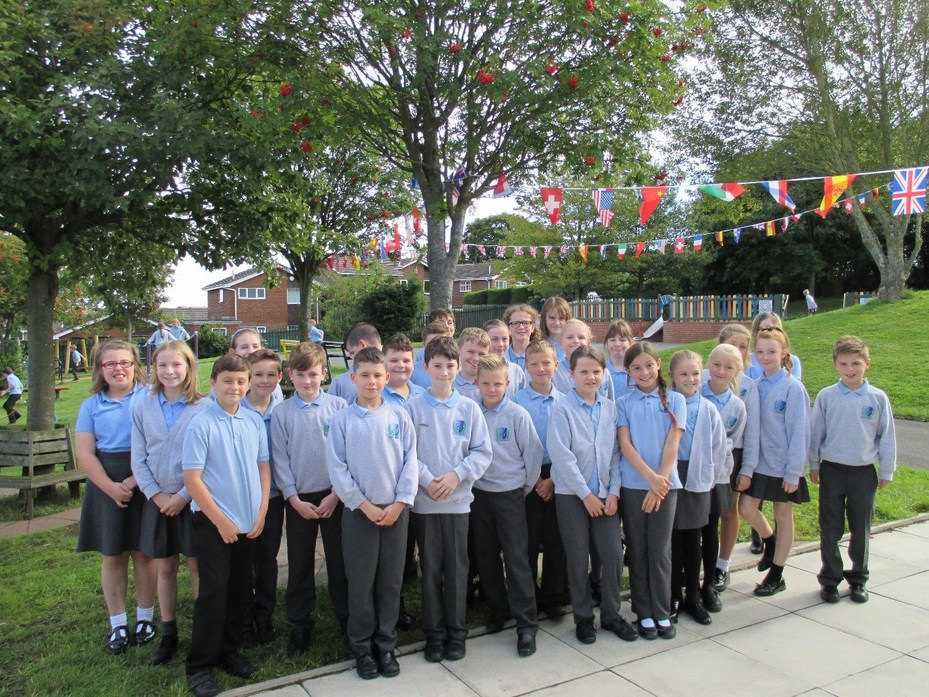 In Year 6, we all work together and get along very well – helping each other if needed. We know the work is getting harder and we have a completely new way of doing things, however we know Miss Young is always there to give us a helping hand.
We are looking forward to the challenges ahead and what we will experience this coming year. Scroll down to find out what Year 6 are up to this term.
Curriculum Plans
Autumn 2015 Curriculum Planner
Coming Soon
Coming Soon
This week we have been celebrating the Queen's 90th Birthday. As part of the celebrations each class have been learning about a different decade - Year 6 have focused on the 'Swinging 60's'. They have worked really hard researching and creating amazing power-points.
Residential in Borrowdale
On Monday 16th May, Year 6 went on our annual residential trip to Borrowdale, in the Lake District, we stayed in a Youth Hostel. We did a range of activities: hill walking, rock climbing and abseiling, ghyll scrambling, canoeing, fire lighting and night walking.
Each night at 6:00, we had a delicious three-course meal. In the morning at 8:00 we had a traditional English breakfast, which was astonishing. We were in three groups, the instructors: Megan, Cam and Alan, helped us through the activities. Overall it was a fantastic experience.
By Jessica and Jack
End of SAT's Party
Friday 13th May our class have celebrated the end of SAT's party. They have all had a great day - playing games, listening to music and enjoying the amazing food that everyone has brought in.
We have to say that we are so proud of the whole class in their commitment to revising and their attitude to SAT's and we are really looking forward to the residential next week.
Year 6 staff.
Infinite Air
On the 14th April, Year 6 took a trip to Infinite Air in Durham. This was a special treat, as we all have been working extremely hard leading up to SATS. Infinite Air is an enormous indoor trampoline and free running park, there is dodge ball, basket ball, wall running and a gigantic air bag and lots of regular trampolines.
Everyone of us enjoyed it and had an amazing time - it was lots of fun!!!
Kyle Jowett
Dance Festival
Rhythm of Life
On Tuesday 15th March , 30 dancers from Year 5 & 6 performed at The Sage, Gateshead. We performed for the annual Gateshead Schools Dance Festival. Our school danced to "Rhythm of Life" from the production "Sweet Charity." We all had an amazing time learning the dance moves (with many thanks to Miss Young - who choreographed the show) and finally performing for our parents and the rest of the audience. We all agreed it was a thoroughly enjoyable experience.
Mary Butler
World Book Day
On 3rd March the whole school dressed up for World Book Day - here are some of our class photos ...
Debate
"Should Ipads Be Used in Schools?"
We were put into groups 'for and 'against'. We had to research facts then discuss in our groups which points we were going to make, ready for the final debate. Each group came to the front of the classroom and argued our points. The rest of the class had a vote to as to which team had the best argument.
This was a really enjoyable exercise.
By Dylan and Bradley
App Building
On the 11th December, Mr Bailey came into our class and talked to us about app building for a shop. He said we were going to create one ourselves. The first thing we needed to do was to work together as a class and co-operate with each other to decide what app we were going to do – we decided on an electric shop. Together we added in the prices for the devices and lots of catchy slogans and ideas. Once we had created our app it was time for us to do one of our own. You could choose pizza, electronics, sports or cake shops anything that you liked. I chose an electronic shop because I am really into using Xboxes, ipads, tablets etc. Once we finished making our app Mr Bailey said we could view our app at home by using the website you created. It was really interesting and lots of fun.
By Mary
Newcastle Eagles Basketball
(Hoops for Health roadshow)
On Thursday 7th November, Fab, Scott, Joe and Drew from the Newcastle Eagles Basketball team came into school. We had two different types of sessions - physical and mental. We had to answer questions to win stickers: the people with the most points won. Mary (yr6), Lucy and Lucas (yr5) won the prize. Then we played a game, whenever Fab bounced the ball we had to clap and if he didn't bounce it and we clapped we were out - Holly won that game. We also practised dribbling and different skills.
We had so much fun and would like to thank the Eagles for a really enjoyable afternoon.
Stella Hamill
FRENCH
Mrs Innerdale has been doing French with us every Wednesday. This term we have been focusing on foods and drinks – we now know a variety of food, drinks and ice-cream in French. Also Mrs Innerdale has been picking children to order lots of food – which was awesome!!
Jack Curry
Ceilidh
We had a great morning dancing along to traditional Gaelic Folk Music -as you can see even Mrs Woodley joined in.
Newcastle Falcons Rugby
Newcastle Falcons Rugby will be coming into school every Tuesday to talk to our class about tag rugby and play interactive games. We do a one hour session of physical activities and skills. Then we go into class and discuss the key points of rugby which include sportsmanship, discipline, passing, teamwork and fair play. We also watch videos of pieces of play from Newcastle Falcons to demonstrate things like teamwork and passing. We play games to incorporate those skills into our physical work.
By Benedict Murphy
DUBAI PROJECT
With a budget of £8000, for a family of 4, Year 6 are really getting their teeth into our Dubai project – from booking flights and accommodation to arranging amazing days out and choosing what to eat and which restaurants they will eat in whilst there.
MAYBE YOUR CHILD WILL BE ABLE TO HELP YOU BOOK YOUR FAMILY HOLIDAY NEXT SUMMER!!!!
We have also been using the "Explain Everything App" – this is an app where you can "explain everything" you are learning about. You can put pictures, writing, drawings and arrows onto it which "explains everything!" But best of all you can record your voice – Joe was ace at this – he made everyone laugh!!!
By Mary and Sophie F
SPECIAL FRIENDS
Special Friends is another important responsibility for Year 6 as it includes taking care of the younger ones and being a good role model. Everyone in Year 6 is paired up with someone from reception to be special friends for the rest of the year. On Fridays the two classes come together to play, talk and do activities with each other. It's fun and enjoyable with for both classes and it helps Year 6 become better role models and Reception settle into school. Special friends is definitely something we enjoy and look forward to.
By Niamh Daly