Welcome to Year 5
In Year 5, we have to step up big time! The work is getting harder, but our lovely teacher Miss Pinnella is always there to help us. In Year 5, we all work together and get along really well. Over the year, we will study a range of different subjects. We are looking forward to the new things we will experience. If you get the chance, come to Year 5, say hello and see what we do.
By Martha and Niamh B
Student Council Elections!
On the 18th of September, Year 5 held a School Council Election. School councillors are chosen from Year 2 onwards. I managed to get 19 votes and my friend Niamh Bloodworth got 17 votes. We both were elected to represent our class. The job of a School Council member is to help make the school a better place. We have regular meetings where we get together and discuss current issues. After the meetings, we retreat back to class to tell everyone what we have discussed, and we ask the children for their feedback.
By Daniel Forrester
In Year 5, we are lucky enough to study guitar. Our Guitar teacher is called Mr Strong. We are being taught different notes. E.g. a,b,c,d,e,f and g. We are also learning about the different parts of a guitar. E.g. Head, neck, shoulder and body. We will learn about using different strings with frets and fingers. It is really fun! We practice singing songs and then playing the chords on the guitar. Right now, we are working on The Drunken Sailor. After Christmas, we will have the opportunity to take guitar further and go into mini groups. So the pressure is on! I can't wait! By Isaac L...with the help of Lucas. :)
On Tuesday 6th October, we were given a Tennis taster session. The Tennis coaches were called Ian and Jonathan. They were both very enthusiastic coaches who clearly adore Tennis. The coaches played games with us and showed us a range of skills. We were then offered the chance to take up Tennis outside of school. If you are interested in playing Tennis then Call Jonathan Newton on 07970167234. They hold classes all around the Gateshead area. Just turn up with a drink and they will provide the rest of the equipment. We are thinking of taking them up on this offer!
By Mary Grace and Lucy.
Christmas Fun.
At St Agnes', we had an incredible Christmas party with lights and music. It was so fun. Even the teachers couldn't resist getting their groove on. Each class had their own period of time in the hall. First, it was Reception and then each class followed. The tunes were great, and we played games that were so much fun! After the party, we had a hotdog, a drink, a packet of crisps, a chocolate bar and a cake each. All summed up, I think the Christmas party was a success and I can't wait for next year's.
By Ellie
In the juniors, this year, we performed an amazing Christmas production called Oliver. Our actor's were splendid and learnt every line and stage direction. Everyone here at St Agnes' worked very hard and put it together in only 4 weeks! It was not only the children who were working hard but the teachers too! They put together dances and practised their singing! We even had some fantastic parent helpers helping with costumes. We all deserved the claps and cheers! The main part of Oliver was played by Martha Young from Year 5. She gave a fantastic performance. Well done!
By Niamh B
This year, we have been given the opportunity to become a buddy. It is very fun being a buddy! We get to buddy for the little ones and help to keep them safe. If they do get hurt then we will help them by fixing their wound and cheering them up. We make the Infants feel welcome and not be afraid of the Juniors. We play with them to keep them entertained. We would never leave anyone out because we are all as important as each other. The little ones respect us and will listen to us. Your children will always be safe with us.
By Ellie and Niamh N
On the 25th September, We held a coffee afternoon to raise money for the Macmillan nurses. We all enjoyed eating cake and managed to raise £400 in the process. There was well over 100 cakes and biscuits. Our Year 5 classmates, Archie and Carl, had the great idea of setting up a tombola stall. Some of our other classmates went around the hall and sold raffle tickets to the adults. Some of our wonderful staff, including Mrs Woodley and Mrs Trodden, worked extremely hard to prepare for this special occasion.
By Evie and Lara!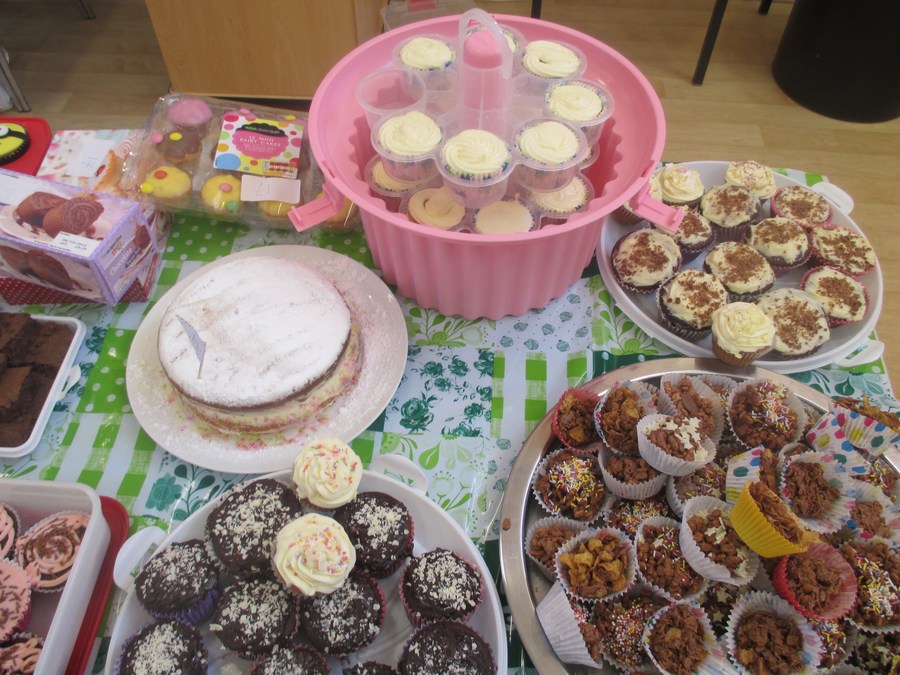 On Monday 28th September, every class in the school had to look at a different country. Some of the other classes looked at countries such as Spain, Portugal, Germany and Italy...to name a few. Year 5 looked at Greece. We looked at flags that belonged to the different countries, we looked at the Greek numbers in Maths and then created a funky Greek fact file.
By Carl and Oscar.
On Friday 6th of November, Year 4,5 and some Year 3 children went to St Mary's Cathedral in Newcastle. We went there to sing hymns and to impress people with our amazing singing. We drew a big crowd! We received a lot of positive feedback from everyone there. We even received an email to tell us what a great job we did. The Cathedral was a stunning venue to perform in.
By Freddie and Liam
Sainsbury's School Game Day
On the 10th of November, we held an event that would count towards our school entering the Sainsbury's School Game Mark. At the beginning of the day, we all went into the hall. Reception class opened our ceremony by making and presenting flags whilst they walked around the hall to 'Chariots of Fire'. We all took part in a group warm up that was based on sports that you find in The Olympics. We all took turns throughout the day to take part in different events. In the Afternoon, it was Year 5's turn to take part in the activities. They were ran by our Sport Leaders in Year 6. The activities tested a range of different skills. E.g. catching, throwing, running, jumping, teamwork, communication and coordination. Year 5 and 6 closed our ceremony by doing a song and dance to R Kelly's 'The World's Greatest'. The overall winners were St Cuthbert's, but we know everyone tried their best. It was a great day!
By Niamh N and Francesca
This year, Children in Need was on Friday 13th November. The school raised an amazing £200 which contributed to the final total of £37,100,687. On this day, everyone came into school in non-uniform for a £1 donation. Children in Need helps others to live their life to the full.
By Oscar and Archie
Anti- Bullying Week took place between Monday 16th- Friday 20th of November. Over the week, all classes took part in different activities. Year 3 wrote a letter, Year 4 made a video and we created an informative Anti-bullying policy. It was great to create awareness of something so important!
By Jacob and Faith
Viking and Anglo-Saxon Day 2015
On Monday 23rd of November, Year 5 had a Viking and Anglo-Saxon Day. We gave a donation of £3 and were asked to wear a costume of a Viking or Saxon. Most people dressed up and some even brought accessories. We started off with a Vicious Viking who gave us all Viking names. My name was Leaf, and that meant that I was to be the next in line when my parents retired. (I became rich! Yay!) Lucas was called Eric, and that meant he was part of royalty. The, he explained that the Vikings wanted to attack Britain and force the Saxons to Wales. We were taught how to row a Viking Longship and Ben got to direct us. We all held different Viking artefacts, and Roy explained what each one would have been used for. We were taught about what life would have been like as a Viking raider and even got to pretend we were raiders. After lunch, we had Oldwin the storyteller. He told us many interesting stories throughout the afternoon. Beowulf was one of the best! Beowulf was a famous hero who fought to protect his land from vicious monsters. One of the monsters was called Grendal and the other was Grendal's mother. Sadly, Beowulf dies and is killed by a dragon with scary teeth. The remains of Beowulf are now buried on top of a hill. We had a fantastic day!
By Isaac L and Lucas
On the 26th November, Years 5 & 6 got a big treat. They got to meet some of the players from the Newcastle Eagles! Both classes were taking part in a programme in which they had the opportunity to meet the players, got taught by the coaches and get to take part in a Basketball competition. We were introduced to the players, E.g. Fab In class, we were taught about living a healthy lifestyle. We worked through a keep fit work booklet and we had a healthy plate challenge where we had to put foods into the right food groups. We then did a bit of Basketball training with the players. We did a warm up by stretching our muscles and doing sprints and press ups. We then did some passing and dribbling with the ball. Throughout this, we were getting stickers for good work. At the end, the 3 people with the most stickers won a prize. We had lots of fun!
By Isaac L
On the 20th January, Year 5 were given the chance to learn about how to repair a punctured tyre. This was a very hands on and practical session and we all really enjoyed it. Over the next few months with Ben, we will be working on our riding skills. This will end on the 23rd March with a brilliant bike ride.
By Kaitlyn
On Friday 26th February, Year 5 went to a basketball tournament at Gateshead Leisure Centre. Once everybody got there, the basketball teachers told us all the rules and safety rules. We then went on to play our games. We were split into different teams and played a number of matches. After we played our games, we had lunch and received the scores to see if we had made it into the next round. Luckily, 2 of ours teams made it into the next round, but we were sadly pipped to the post and ended up in 4th place. Everyone had a great time!
By Lucas Thirkell