Welcome to Year 4
Scroll down to find out what Year 4 are up to this term.
Curriculum Plans
The Skipping Festival
St Thomas More held the annual Skipping Festival this week, inviting all schools from the area to take part. From the Double Bounce to the Pretzel and Keep the Pot Boiling, all children had a skipping skill to master. Year 4 were fantastic! Well done.
Year 4 Cycle Ride
We had an amazing time on our cycle ride through Crawcrook and Ryton and the sun even made an appearance just in time for the park.
Striking and Fielding
We put in a mighty effort at the latest Striking and Fielding Tournament held at St Thomas More. Out of 9 teams, we came 5th overall. I think we were tired out from our trip to the Museum. Well done everyone who took part!
First Holy Communion
Today we celebrated ten of our Year 4 children on their first Holy Communion. On Sunday, the family, friends, catechists and staff from school all gathered in church to witness the children receive Holy Communion for the first time. The boys looked very smart and the girls were angelic in their beautiful outfits and dresses.
Mummy Madness
The classroom was invaded by a gruesome group of mummified zombies today...more than usual, anyway! We were learning the ancient ways of mummification and how the Egyptians used to preserve their dead. A big thanks to Ellie and family for bringing the six foot sarcophagus in for us. It's amazing!
Eucharist
With most of Year 4 preparing for their First Holy Communion's this year, we have been exploring the different parts of the mass. One of the most important parts, is when we receive the body and blood of Jesus. We practiced what to say and do, during Communion, in the chapel.
World Book Day
Willy Wonka, Dennis the Menace, The Snow Queen, Sophie (BFG), Kevin Keegan, The Minotaur, Darth Maul and Darth Vader were just a few of the familiar characters you could see in year 4 during World Book Day. Everyone looked fantastic and the range of characters present, just showed how much we love our books! A special thank you to the parents, grandparents and special helpers who always put a massive effort in behind the scenes.
The BFG
Forget about Steven Spielberg! Check out one of Year 4's trailers for the upcoming Summer release of The BFG. We worked in pairs to put together a dramatic soundtrack using GarageBand, wrote a descriptive narrative to match the timing of the trailer and edited it all together using iMovie. Don't get too scared...!
Internet Safety Day
We've been reminding ourselves of the five SMART rules for staying safe online this week. We know that the internet is a huge network; full of strange and wonderful people from all over the world. It can be a lot of fun if we know how to use it properly. Being safe on the internet is becoming a huge responsibility for everyone who uses it and these websites have some great advice if you would like to know more:
www.kidsmart.org.uk: some cool games and information.
www.thinkuknow.co.uk: Advice for parents, carers and children of all ages about how to stay safe.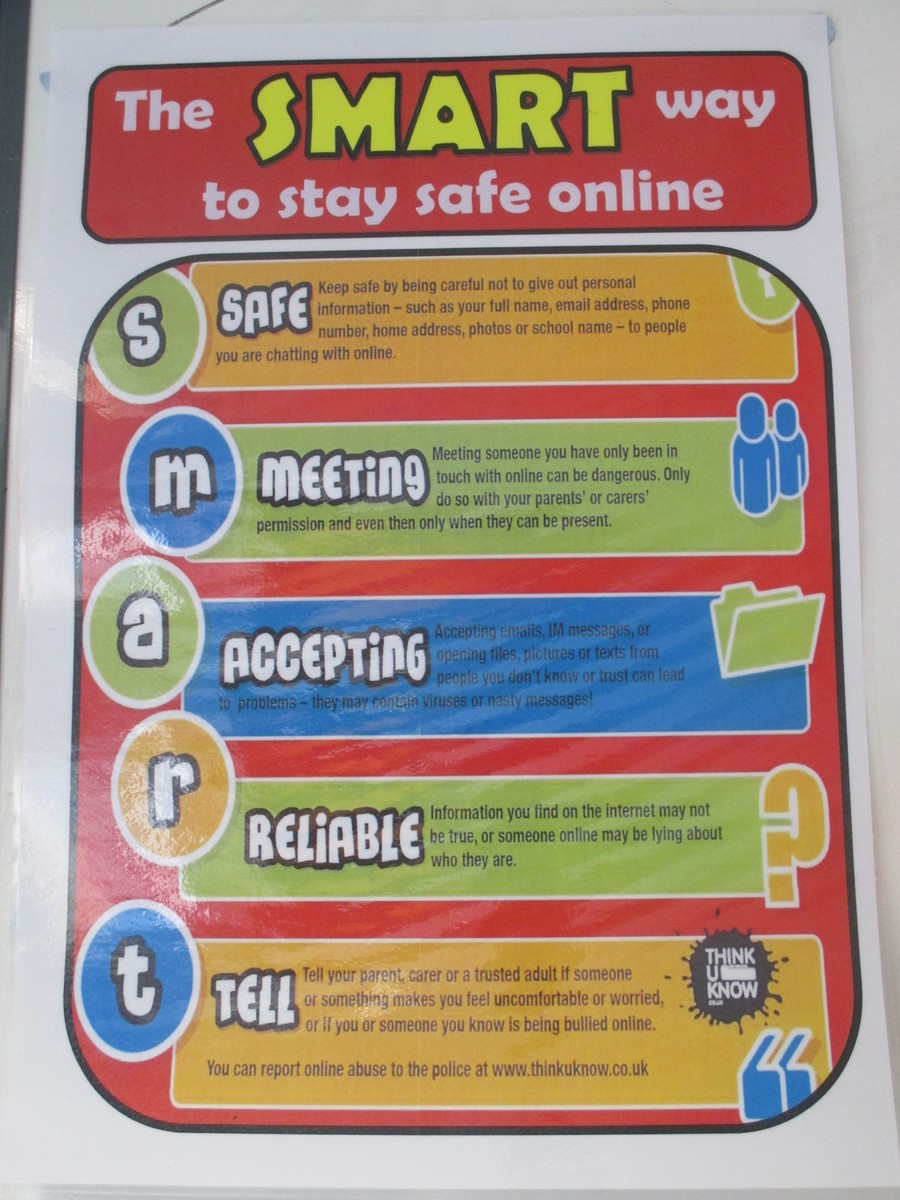 Collective Worship
Year 4 spent the afternoon working in small groups to create a collective worship for the rest of the class. Collective Worship is a time for us to reflect on our current topics, through prayer, song or even just spending a few minutes of the day in thought.
Centre For Life
Year 4 had a visit to the Centre For Life, where they spent time learning how to write their own code for a program, visited the planetarium, watched a show about how they send the rockets into space then after some lunch year 4 were able to play in the arcade on some very old and not so old computer games before heading back to school we finished our trip by going on the 4D ride.
Stop Motion Animation
Throughout this half term, Year 4 have been exploring the age of the Dinosaurs. From researching our own topics and exploring the different types of dinosaurs, we created information scripts to use as narration for our very own Stop Motion films. Forget about David Attenborough, pop in to year 4 to see our wall displays come alive!
European Day
Year 4 enjoyed a day full of Portuguese language, games and cuisine. We all tried spicy rice, olives, grapes and Pastéis de Nata; a type of custard tart dessert eaten by the Portuguese people.
Welcome to Year 4!
Well, the tummy butterflies and excited smiles were certainly visible during the first week back in Mr. Ferguson's classroom! It has been a great first week back and there are lots of enjoyable moments to look forward to this term. Do pop back to keep up to date with what has been going on at St Agnes throughout the year.
History Week (The Fab 50s)
In the run up to the Queen's 90th Birthday, we have been looking at her reign throughout the last century. Each class was given a decade to explore and what better way to see it than a trip to the Discovery Museum. We were able to see all of the strange and dated objects used in Newcastle at the time. One of our favourite things about the 50s is the music...HAIL, HAIL ROCK 'N' ROLL!
Oriental Museum- Ancient Egypt
What an amazing day at the Oriental Museum, Durham University. Year 4 became archaeologists for the day; handling 3000 year old artifacts, identifying items from Ancient Egyptian daily life and uncovering gory facts about the ancient civilisation. Jo and Gemma taught us some fantastic things, even the adults were amazed by how much there was to learn. We even got to mummify Samuel (our Pharaoh) by removing his innards, pulling his brains out of his nose with a hook and placing a scarab amulet over his heart! He's back to normal now, though.
St Cuthbert's Get a Pizza the Action...
We've been working hard in St Cuthbert's. By winning the World Book Day Quiz and weekly House Point competitions, we finally got our well deserved reward; a trip to Michaelangelo's for delicious pizzas.
Calculating Area
Today we were measuring the area of our football field in meters. We used a trundle wheel to count how many metres it was in width and length. We rolled the trundle wheel and it clicked for every metre. The class enjoyed working together to measure the field and everyone communicated as a group very well.
How can I do better?
Assessing our work has never been more important. Using our peer assessment sheets, we not only look at the specific parts of writing that we have successfully accomplished, but also work together on outlining an area that needs improvement. It's takes a lot of responsibility, but we do it really well in Year 4.
Egg-citing Stuff!
The annual Easter Egg decorating competition took place before Easter and there were some spectacular entries this year. Well done to all of the winners and runners up and well done to everyone for the fantastic effort put in.
Ceilidh Madness
Year 3 and 4 had a merry start to the day with with a Ceilidh Dance in the hall. In true St. Patrick's day style, we learned about the origins of the traditional Irish Dance and some instruments used to create the music.
Gymnastics House Tournament
St Cuthbert gave an amazing performance in their inter-house tournament last week; winning both the infants and juniors prize for sporting achievements. We are looking forward to our prize next term. Kevin has been a great coach, teaching us how to perform basic rolls, handstands and how important balance and flexibility are to every sport.
How Long's a Piece of String...?
Year 4 have been measuring their athletic ability this week. Out on the yard, we recorded our standing jump, running jump, high jump, lunges and splits in centimetres and then converted the lengths to metres.
Mad Skillz!
After a lovely Christmas break, we have been exercising our brains with some tricky addition and subtraction games. It's a good job we're all practicing our times tables...they'll come in handy this term.
Snozzcumbers!
Year 4 have been trying a famous BFG delicacy this week, as we continue our journey with Sophie and her friendly giant. A lot of "ickypoo" faces, but the jar was empty in the end!
A Merry Christmas and a Happy New Year from Mr Ferguson...
Firstly, a massive 'well done' to Year 4 who have worked hard this term and are very much in need of a well-deserved break! Hopefully, Santa is reading this and checking his list. Also, thank you for all of the cards, presents and messages of thanks this Christmas, they have truly made me feel like the luckiest teacher in the world.
During the final days of term, we were reading a story by Tom Palmer. Palmer is a children's author who writes novels focused on football and mystery. If you're still waiting to hear the ending of the story; The Character Strikes Back, then you can read it by clicking here. Have a lovely break, and see you all in 2016!
Tennis Trial
Year 4 spent the morning learning Tennis skills with Jonathan and Ian.
Macmillan Charity Cake Sale
Thank you to all the busy bakers from Year 4 who contributed to another successful (and delicious!) Macmillan Cake Sale. We raised lots of money which will be donated to the hard-working nurses and staff who work tirelessly every day, helping people overcome cancer-related illness.
If you would like to make your own contribution to the charity: click here.