Year 3 River Trip
We started off in Wylam. We stood on the bridge and looked at the river deposition and we also saw Salmon jumping. We then hopped on the mini bus and headed to the Derwent and stood on the staiths. This was where the coal trains came down and placed coal on the boats to be transported. We then had lunch near the Sage overlooking the river. We ended up at the mouth of The Tyne. Here we crossed the river to South Shields on the ferry. We then made sand sculptures on the beach and finished with an ice cream. by Eve Dawes
Sports Day
Year 3 enjoying competing for their countries on Sport's Day.
Diary Entries
On our return to school, we decided to write some diary entries based on eye witness accounts of the fire. Here are some examples of the super diary entries.
Winners of our Quayside sketching competition, well done!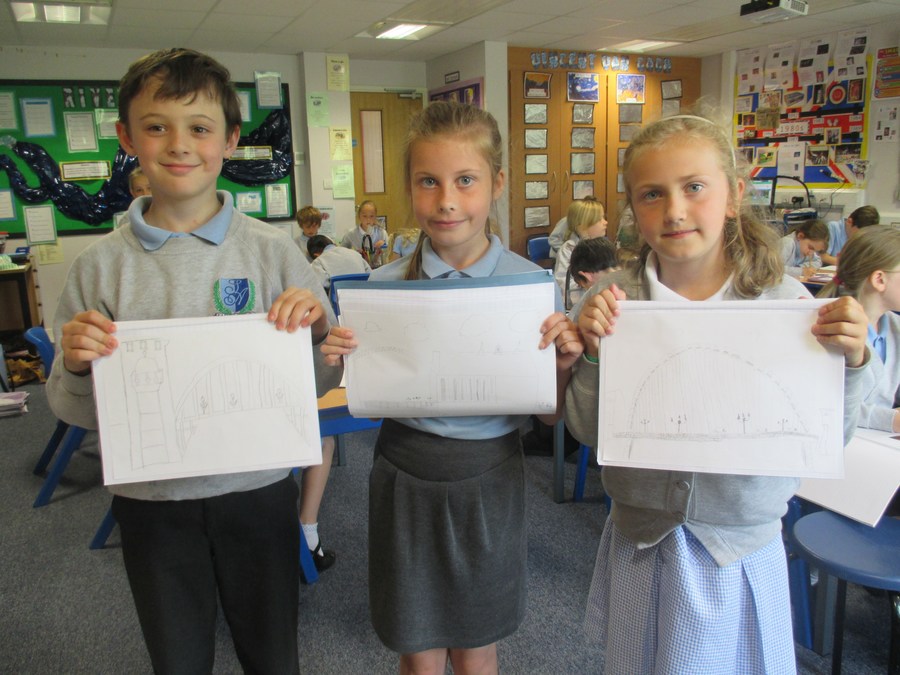 Sketching of the Quayside
We had our picnic overlooking The Quayside and afterwards we did some sketching of the buildings and bridges.
The Great Fire of Gateshead Trip
Year 3 went on a historical walk to find out about The Great Fire of Gateshead in 1854.
Richard Stephenson, our tour guide, told us a great deal about events and characters of that time.
That History Bloke
Year 3 have been learning all about The Great Fire of Gateshead in preparation for their trip tomorrow. Richard Stephenson, local historian, has been telling us all about life on The Quayside in 1854.
The Queen's Birthday Party
Year 3 celebrating the Queen's 90th birthday with cake and crisps.
Discovery Museum
Year 3 visit The Discovery Museum to study life in the north east during the 1980s. We had the chance to look through each decade and watched a video film about life through the decades.
Year 3 Fun Run, Saltwell Park
A great morning in Saltwell Park. Thanks to all parents who came along to support and encourage the class. Some super running and great team work today Year 3. Have a great half term break.
Today Year3 had a taster Judo Session. They all enjoyed the experience. They have been given a flier for one free class in Ryton Judo Club.
Science Investigation
Does light energy travel through all materials? A question investigated in science.
Freeze Frame Emotions
Year 3 are studying The Ascension in RE. We have been discussing the thoughts and feelings of the disciples. Using images and scripture we have completed our freeze frame photographs and thought bubbles.
Eater Egg Hunt
It took an astounding 5 minutes to track down all of the eggs! Well done Year 3. Enjoy your Easter Holidays.
Mapping and orienteering at Gibside
(Edward) We had to rotate the map so that we knew which direction we were travelling in.
(Nathan) All of the signposts were placed on man-made materials and each signpost had a letter clue to help find the key word.
(Edward) We had to do quite a lot of searching to find some of the signposts.
Geocaching at Gibside
Year 3 went to Gibside on Friday. We went geocaching using GPS trackers. Firstly we estimated distances using the devices. I had to estimate 20 metres (Nathan) I travelled 44 metres in total. I was asked to estimate 40 metres but I only managed 24 metres (Chloe).
Chloe : We had to programme in 'Way points' and use the compass and distance options to find boxes with directional messages inside.
Jessica: I learned how to use a GPS to find treasure. It was lots of fun and we did a lot of walking.
Year 3 and Year 4 Ceilidh Dancing
I am doing a subtraction sum. I am using the frog jump, counting on method. I'm showing my class how to do it. Sonny Tully (Year 3)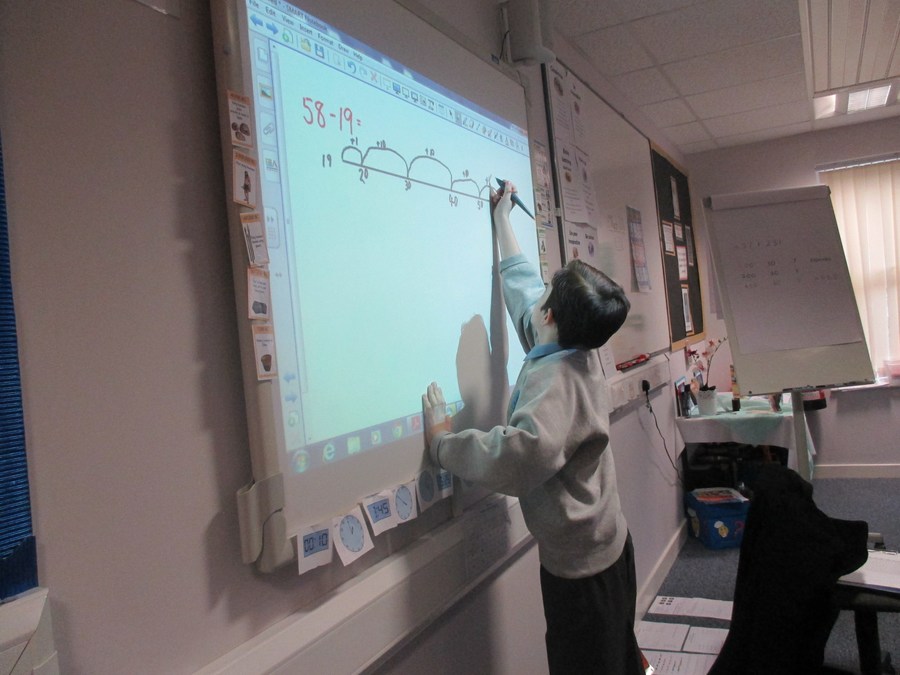 Year 3 Multi-skills and Cricket Coaching
Year 3 have had two coaching sessions this week. Firstly Robbie came into school to teach us all about multi-skills games. On Thursday Mick, Greenside Cricket Coach, came to start a 5 week cricket coaching coarse.
Year 3 completing a Circuit Training Session as part of our Heal
Farm to Folk (Tesco)
Year 3 went to Tesco today to investigate different foods and how they are made and/or transported to the store. The children had a great time and were able to taste a few different treats. We were able to visit the bakery, freezers and fishmongers. The Tesco's staff were very kind and answered all of our questions about the food we eat.
European Capital Cities (Geography)
Well Done Year 3! Our European Capital Cities Project is completed. The children have worked incredibly hard and their research and presentation has paid off. Hope parents enjoy reading them.
As part of our storytelling week Year 3 have been performing parts from our class book, Fantastic Mr Fox. We also had the pleasure of Mrs Fisher and Mr Harvey's storytelling skills on Thursday. A huge thank you to our parent volunteers.
Mathematical Modelling
Year 3 making 3D shape models using straws and blu-tack
Bowes Museum
Friday 11th December
Year 3 visit Bowes Museum.
We made clay pots and investigated a range of stone age and bronze age artefacts. It was wonderful to see the Silver Swan in action.
Rock Detectives
Year 3 were rock detectives today. We used our senses to describe and name some igneous, sedimentary and metamorphic rocks.
Stone Age Studies
Year 3 experiencing stone age activities using materials from this historical period. We decided to lie on the floor and paint under our desks to make the cave painting experience realistic. Using wood, string and stones we designed and made stone age weapons. These weapons could then be used to hunt and gather.
Freeze Frame Drama
Anti-Bullying Drama Session
As part of our topic on anti-bullying, year 3 have been creating 'freeze frame' drama photographs. We have looked at different examples of bullying and reasons why bullying occurs. We have been writing letters of advice to children who are bullied to reinforce understanding and to clarify what steps to take when reporting incidents. Some fantastic facial expressions and body language in these freeze frame photos.
Music Workshop at Hexham Abbey
On Friday 18th September we went to Hexham Abbey. We had a brilliant time listening to and learning about instruments in the orchestra.
Paul is a professional drummer and he told us all about the different types of drums he plays.
He also let us play some of the instruments. We also got to meet Marcus. He told us all about the organ. The pictures below show how grand it was. Marcus gave some children the chance to play the organ.
Eve D and Clara
The String Quartet were really good. They played some beautiful classical pieces of music. We liked the sound of the viola it was quite high.
Did you know that there are 2304 pipes connected to the organ in Hexham Abbey?
Jacob and Alfie