Welcome to Reception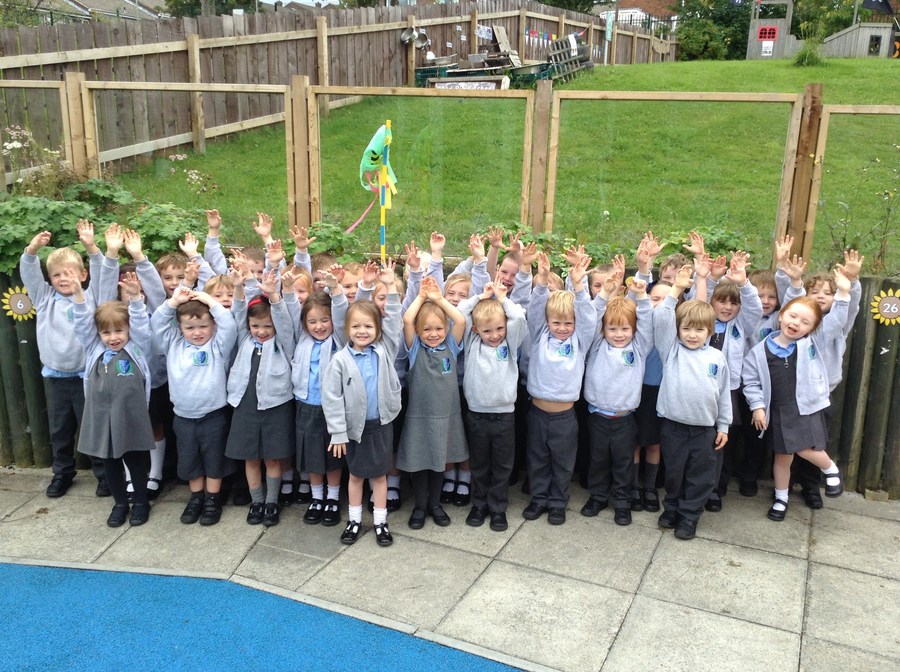 Nursery Visits
This week has been quite a different week in Reception class as we have had all our new Nursery children coming in for their little taster sessions. All of the Reception children have had at least 1 chance at being a buddy this week to one of the Nursery children and they have absolutely relished the opportunity! They have been fantastic at helping the little ones out, showing them where everything is and being patient with them . They have really helped them to start getting their heads round Reception expectations and I am so proud of them! I have to mention a few individuals who excelled themselves... Matthew - whose buddy didnt know what he wanted to do but Mathhew was unfazed and kept showing him more and more different things and giving him more ideas always with a "i know what you'll like..." and the broadest smile on his face! Edith for coming up with plans before the Nursery children had come in - " Are we allowed to make Treasure Maps with the buddies?! " plus ensuring her buddy knew before they left the ice cream parlour "we must tidy up"- very firm but fair! Chloe was fabulous with her buddy who was a little bit teary to begin with and was so quiet but Chloe soon brought her out of her shell and smiling again! Finally Harry whose buddy did flit from one activity to the other but Harry stuck there through it all sticking by his side! Amazing!
New Starters 2016
A huge thankyou to all the parents of our new starters who came to the New Parents meeting at the end of June. Our Nursery taster sessions start this week Tuesday-Friday (Tuesday 12th July) you ought to have signed your child up for two sessions in total on different days. The morning sessions are 9.15 to 11.30 and the afternoon sessions are from 1.15 to 3.00pm Please drop your child off at Mrs Grady's office at the Entrance to the school at 9.15 for morning sessions and 1.15 for afternoon sessions where they will be met by either myself or Mrs King and taken down to the classroom. We would ask for your cooperation in this for as smooth a transition as possible- both for the Nursery children and for the current Reception class who will be working alongside the new starters.
Don't worry if your child does become upset and reluctant to leave you for their visits It can occasionally happen and I assure you usually doesn't last long. We do find from experience- the shortest goodbyes enable the smoothest possible beginnings into school .
Looking forward to meeting our new Reception class 2016!
Please see below the powerpoint from the New starters meeting and the New Starters booklet handed out to all new parents. There is also our photostory from our current Reception class to give you a little flavour of Reception life at St Agnes School !
Our trip to the Blue Reef Aquarium and Tynemouth beach
On Monday 27th June we had our final class trip out. We visited Blue Reef Aquarium first at Tynemouth. We had a go holding starfish and crabs and had a feel of an Urchin and a Hermit crab's shell. We saw lots of great sea creatures at the Aquarium: seals, sharks, seahorses to name but a few. We had our picnic outside whilst watching the seal show then we had a play on the beach. We made some excellent sandcastles and sand sculptures and the children had a great trip to round off our fantastic first year at school! Here are some of our thoughts on our last class trip:
Polly: I liked going to the beach and holding the starfish
Esme: I liked going on the beach
Molly: I liked having my packed lunch!
Toby: I liked everything!
Kate: I liked making the sandcastle with Molly and Edith
Reggie: I liked going in the tunnel which went under the water(in the aquarium)
Stella: I liked the seahorses
History Week and The Queens Birthday
This week in honour of the Queen's 90th birthday we have been learning all about the Queen and the Royal Family. We have even got our own Buckingham Palace in the classroom to have a go at being King's and Queen's ourselves. We have been making birthday cakes for the queen, corgi dogs and royal guards and special flags to wave on Friday when we will have our school celebration.
Then today we had a great overview of what life was like in the past in our area when we visited the Discovery Museum . Here are some highlights....
Harry : I liked putting the helmets on
Polly : I liked when the lady had the wrong clothes and she got wronged. ( we saw a 1960s lady dressed in the most amazing minidress - getting told off by her mam for it being too short)
Jude M : I liked the Romans
Evan : I liked seeing the Newcastle football team win and the old kits
Matthew : I liked seeing the old M and Ms sweets (old packaging from the 80s)
Edith : liked the pictures that when you pressed the button they light up.
Bailey : liked seeing the old trolley bus
Phebe, Lacey and Daniel enjoyed everything!
This paves the way perfectly for our History focus on the 1920s when the Queen was little which we will be looking at for the remainder of the week, before the tea party on Friday!
The RSPB visit and end of half term review
Just before we broke up for the holidays we had a visit from the RSPB. Jill did a session with us all about what the RSPB do and talked about minibeasts and where we can find them and how we can improve our outdoor area further so we can encourage more wildlife to live here. The children were great at working their groups , using the clipboards and finding and identifying minibeasts, birds and different plants. Please see photos below.
We then had a talk about what we liked best this half term....
Bailey said " I liked the animal work"
Cameron said " I liked going to the farm"
Evan " I Liked helping Herbie with the big painting"
Alex " I liked making a wasps nest"
Evie " I liked Lacey being my partner on the trip"
Stella and Esme both enjoyed having the chick is the classroom the best.
Polly " I liked doing my leaf booklet"
Chloe " I liked having the caterpillars in the classroom"
Christopher, Jay and James S " I liked making waterfalls"
Georgia enjoyed making her ladybird and butterfly
Reggie liked making his chick in the gluing
Lacey loved making her zebra
Jude M " I liked doing my open door picture"
Ella and Harry liked making their bees
Kate enjoyed making her zebra
Gateshead to Rio
In the run up to the 2016 Olympic games in Rio in August Gateshead School Sports Partnership have set all schools a challenge - Can you earn enough air miles to get your class to Rio! Rio is 5,914 miles away and in order to earn "Air miles" the children need to do more exercise - then as a class we will record how many miles we have earned each day. Children earn 1 airmile for low intensity exercise like walking to school, 2.5 air miles for playing out at dinnger time - moderate exercise , then 5 air miles for doing out of school sports - swimming, tennis, dancing, football walking the dog it all counts! The aim is to encourage more children to do exercise and to promote sports outside of school. Each morning we will be asking the children whether or not they walked to school and whether they did any exercise the previous evening that they can remember. All the points get added up each day and the class who "gets to Rio" first will be the winner. We have also started a daily Reception exercise challenge to help us increase our air miles ! On our way we have to "collect " various members of team Gb Who have "got lost" on their way to the Olympics - this is to help the children understand a bit more about the Olympics the kind of sports the athletes involved undertake and on top of that help us with our Geography and mapping skills as we chart each continent looking for the lost athletes! I'm sure the children will be able to update you on our progress each day ... watch this space
Minibeasts
The past few weeks have been so busy in Reception class. Since our farm visit we have been consolidating our learning about farm animals and have moved on to learning about minibeasts. The children have been so engaged in their learning on minibeasts that we just had to extend one week into two to really deepen our learning. The children have made the most AMAZING minibeasts in the gluing area and painting and have been fantastic at finding minibeasts in our outdoor area. We also now have resident caterpillars in Reception class- a huge thankyou to Mrs Mansfield for enabling this. We are looking forward to watching them change and grow into beautiful butterflies.
We have also been continuing our planting work in the outdoor area- making habitats to encourage even more minibeasts to move in. We have also planted some herbs to extend the possibilities of our recipes in the mud kitchen!
Alongside this, the children have been fascinated by quite a wild section in the top corner of the outdoor area- what initially began as digging a tunnel to James Surrey's mam's house (!)has now progressed to the construction of a waterfall with several channels to it! The geography and science learning the children have been doing through this has just being amazing. Digging the channels thinking about valleys and how the water can go faster or slower , where the water goes how it needs to be deep in some parts and shallow in others... and it is still work in progress. Niagara falls eat your heart out!
Down on The Farm
Today ,on quite possibly the coldest day in a long while, we took the children to Down on The Farm at Houghton Le Spring.The children had a fantastic day. We had a go holding bunny rabbits and baby chicks, had a tractor ride to see the cows and baby calves. Then we washed the pig and bottle fed the baby lambs , we groomed the donkey and had a go on the mini tractors. Then we had a go on the playground. It snowed off and on all day(even a little bit inside the barn!) and was extremely cold but the children were an absolute credit to our school , they did not fuss or complain once just got on with it and had a great day! Many thanks to Mrs Wilson, Miss McMaster and Mr Lawson for helping out and to Mr Laidler and Mrs King for driving the minibuses there and back !
PDSA Workshops
On Monday we had a visit from Tina the vet nurse from the PDSA . She did the whole school assembly and she then took just our class for a workshop all about pet welfare. We talked about the five welfare needs that all pets have and what we can do to make sure that they get these needs.
Evening Chronicle
Please click the link below for the article on the ambulance launch that we were lucky to be part of on Friday !
Chicks week 2
This week we have noticed lots of changes in our chicks. They have longer necks , are getting generally bigger and are developing hen feathers now. We had a little go holding the chicks yesterday afternoon. In fact the chicks were so happy in Harry and Jude M's hand's they starting falling asleep! We talked about what the chicks felt like and how we felt holding them: Herbie said his chicks feet felt a bit hard, Jay said he could feel the chicks heart beating- he thought it was maybe because it was trying to move its legs. Molly said it was so fluffy and Evie said they felt a bit tickly!
NECTAR ambulance opening
This afternoon Mr Laidler and I took blue group down to the launch of the new NECTAR ambulance station. The unit has two brand new ambulances specifically designed to look after and transport seriously ill children. We saw Evie's winning picture up on the wall , met the mayor and saw two Tyne Tees presenters cut the ribbon to officially open the station. The children were so lucky to each be given a special NECTAR bag with a Fudge the giraffe in to help them remember their special afternoon. The children were so well behaved and were an absolute credit to our school. There was a photographer from the Chronicle there too, so look out for photos of our children over the weekend!
Our Chicks
Yesterday (Wednesday) two chicks had been hatched when we got to school! We named them Tom and Cuddles. One is a boy -the yellow one and one is a girl - the browny one. Then, this morning when we arrived at school, four more had been born over night so we now have three boys and three girls named: Kevin,Tom,Squishee, Meea, Star and Cuddles. There were two other eggs this morning with cracks and we have been watching all day to see their progress. The crack on one got larger and larger, then over dinner time, chick 7 was born! Luckily we had the ipad set up ready and the children watched back the egg hatching when they returned from play! There are still 3 more in the incubator so fingers crossed for a few more healthy chicks by morning! The boys and girls have LOVED watching the chicks , have been drawing pictures and making loads of great observations on their behaviour.
Summer Term 1 - Living things
Welcome back I hope you all had a restful Easter break. This half term we are learning about Living things ,we have started this week by thinking about our Pets. We have been making cats, dogs , tortoises and writing great stories about animals we even have a new role play vets surgery to look after our toy animals. We also have 10 eggs with us in the incubator at the moment, the children are watching carefully to see when they will hatch -fingers crossed by Friday we should have 10 baby chicks to look after! We have also been busy in the outdoor area trying to create new habitats for the animals in our nature area- we spent a lot of Tuesday morning moving mud in the wheelbarrows ready to plant some seeds to attract more minibeasts to our outdoor area!
Also, a little while ago as part of our learning about "People who help us" the children entered a competition run by NECTAR at the Great North Children's Hospital. They had to draw a picture of an ambulance and the winning entries were to go on display in their new ambulance unit on the site of the General Hospital on the West Road. All the boys and girls did a fantastic job and we are proud to announce that Evie's picture was selected as one of the winners! As a result not only is her work going to be put in the new ambulance unit but Evie and her group(Blue group) have been invited to attend the launch of the new ambulance unit on Friday 15th April. The launch will take part at 1.00 during school hours so Mr Laidler and I will take blue group down to the ambulance unit in the minibus and we will be back in plenty of time for home time. Evie, we are so proud of you!!!!!
Bike sessions
This afternoon we had our first bike sessions with bike it Ben. Thank you to all parents who came in to help Bike it Ben with the sessions. If you were unable to attend Bike it Ben has passed feedback on to Mrs Watson who stayed with the children -who has typed it up and it will be going home tomorrow- just a few pointers to practice on at home.
The children started off without pedals on -running with the bike to get the feel of moving with the bike, they then progressed to sitting on the bike whilst it was moving without pedals on -gliding to practice balancing without stabilizer's . Once they got the hang of balance they could have their pedals back on and they were away!
Easter Egg competition
We are so impressed with all the fantastic eggs that have come in for the school Easter egg competition they are AMAZING! Some great ideas! We have enjoyed looking at every bodies entries in the hall. Miss Young found it extremely hard to judge- but the winners were 1st Esme, 2nd Edith and 3rd Evie - well done girls. Thank you to all parents who helped make the eggs with the children
Holy Week
On Monday we started off our RE work on holy week by acting out the Palm Sunday story.We made our own Palms and waved them shouting Hosanna as Edith and Noah as the donkey and Jesus came though into Jerusalem. The Easter story is quite challenging for the children to understand at this age -the focus for us is very much on growing and on the celebration of new life at Easter.
We continued our Easter story on Tuesday looking at Spy Wednesday- Evan was Judas and Stella and James S were the high priests . The children acted out Judas going to the high priests to tell them he can help them find Jesus. We then counted the 30 silver coins that Judas got paid for his betrayal of his friend. We talked about how Judas made a wrong choice that day to help the people who didn't like Jesus and that he ought to have tried harder to be a better friend.
Today we acted out the Last Supper. Toby was a fantastic Jesus and the boys and girls enjoyed dressing up as his disciples . We then read on to the end of the Easter stpry and the celebration of Jesus rising from the dead on Easter Sunday.
Our transport topic
This children have thoroughly enjoyed learning about transport this half term. We have been making all sorts in the gluing- trains, cars, helicopters, buses, taxis the list could go on! We have made some amazing big cars in the outdoor area , transformed Eddie the truck , made racing tracks and written transport stories . We have even had our own bus in the classroom!
See below for some of the things we have been up to this half term.
Our trip on the train & into Newcastle
This morning we got the minibus down to Wylam then took the 10.05 train to Newcastle. We had a walk around Central station saw LOTS of trains before we got the Metro to Monument. From there we walked down Grey Street seeing Greys Monument and the train viaduct that crosses Dean St. We had our packed lunch on benches next to the river counting buses, trains and cars on the bridges as we did so! We then had a look at the Metro, High level and Redheugh bridge from below and crossed the swing bridge over to Gateshead side where we were picked up again by the minibuses. What a busy day the children will definitely sleep tonight after all that fresh air !
Here are some of the things the children liked best about our trip:
Harry " I liked the Wylam train"
Jude M " I liked watching the river"
Esme "i liked going over the swing bridge"
Jay, Molly and Evie liked "eating their lunch!"
Alex, James S and Phebe "liked the underground train"
Polly " I liked when we were walking"
Christopher " I liked going across the bridge in the train"
Amazing Writing !
This morning the boys and girls have done some fantastic writing that we just had to share with you all . They are doing so well at holding sentences in their head and being really independent in their work!
A taxi morning and a survey afternoon
On Wednesday 9th we had a special visit from James' Mam and Dad who work for Blaydon taxis.They brought their taxi in and the children had a go sitting in the driver and passengers seats ,they saw the meter which tells you how much money to pay and thought about journeys they have made themselves in taxis.A huge big Thankyou to Mr and Mrs Surrey for giving up their time Wednesday morning to share a little bit of what being a taxi driver is like with the boys and girls -the visit fit perfectly with our transport learning.
Then Wednesday afternoon we took the children in small groups just outside of the school grounds to do a travel survey, counting how many of each type of transport we spotted going through Crawcrook .The children did a great counting job helping their group do a tally chart and then turning their findings into pictograms back at school.
World Book Day and A poet visits....
This afternoon (Wednesday) we had a special visitor called Paul Cookson. Paul is a poet - before we went into the hall we talked about what poetry is and Toby gave a great answer " Its kind of like a story, but a bit shorter" We talked about how they sometimes rhyme and Daniel could say "rhyming words and words that sound the same"!We then joined in with the rest of the school listening and having a go at Paul's poems. He had lots of funny poems about school about sitting on our bottoms about the dinner nannies and about teachers he had when he was little, He even got his Ukelele out for some of the poems too! What a fantastic treat!
Today has been World book day! We are so impressed with all the fantastic costumes the children have come in! A big thankyou to all parents , lots of hard work has gone into some of those costumes!
Our trip on the bus
This morning we took the minibus down to the Metrocentre, we got to see the bus depot first where all the buses go to get fixed - we saw loads of buses there! Then we visited the metrocentre train station and saw three trains go past, we were very lucky! Then we walked over the bridge into the metrocentre bus station and caught the number 10 bus back to Crawcrook. We all paid ourselves with our money and got 10p change back from the driver, we have got our change and our bus tickets safe in our trays to take home later! The children really enjoyed seeing all the buses and trains and having the experience of travelling on a real double decker bus! Many thanks to Mrs Gaughan and Mrs Wilson who came to help us on our trip !
Here are some quotes from the children about what they thought about our trip:
Jay : I liked going in the minibus"
Ella: I liked going on the real bus because it was high. I liked going on the top
Alex:I liked going on the top deck
Christopher: I liked watching the trains
Phebe: I liked the trains
Molly: I liked the steps that were going down in the bus station (meaning the escalators!)
Cameron: I liked seeing the buses at the bus depot
Transport -Our New Topic
This week we have started our new topic all about transport. We have been sharing information about our own cars from our holiday home proud challenge in family time. We have now got a bus role play area , which the children have loved playing in. We have been making big cars in the outdoor area that we can climb inside, drawing race tracks, making cars in the gluing and the lego area and writing stories about going on trips in our family cars !Eddie the truck has had several upgrades this week and now sports a registration plate as well as some brighter colours so he is ready for the race! We have thought about money in the context of our role play bus , recognising our coins. We are finding getting our head around pence and pounds hard so we will keep practising on this. We have even had a start on counting in twos making our own car parks with shared spaces for 2 vehicles!
Please see below for just a flavour of our first week back!
Next week we will be going on a little trip to the Metrocentre on Tuesday morning. We will be getting the real bus back to school . Please can you make sure your child has £1 to pay the bus driver for the fare back to Crawcrook.
It is also world book day on Thursday when the children will be coming in to school dressed as their favourite book character. Please could you send your child in with a copy of their favourite story book on Thursday so that we can do book reviews on Thursday based on their favourite book.
Half term Home Proud Challenge
Next half term we are learning all about transport , in readiness for our topic work. The children have a half term investigation challenge. (Please either complete work on this page & glue in Home Proud book or alternately just complete the work on a new page in your home proud book ) To be shared in class after the half term break.
February Half Term Home Proud Challenge
Finally if anyone knows of somebody or works in transport themselves and would be willing to share their knowledge with Reception please let Miss Acheson know
Ash Wednesday
Yesterday we had a spacial liturgy in the afternoon to celebrate Ash Wednesday and the beginning of Lent. The children were amazing at listening and singing in the liturgy showing how respectful they can be. They each had an ash cross put on their heads to show we are trying to follow Jesus in Lent. We then put our handprints together to make an " Ash cross" in our prayer area as a reminder for us this liturgical season
Our Space Topic
This term we have been so busy with our space topic . We have learned so much , we have found out all about the big planets and the dwarf planets including Make Make which is everyone's favourite! We have learned about the moon and stars talked about constellations, black holes and nebulas! We have found out about space exploration making rovers , rockets, landers , moon buggies and satellites. Last week Harry, Herbie and Alex decided to make a big rocket on the big paper they then proceeded with the help of Edith, Noah, Bailey and I don't know how many other children to fill the whole page with EVERYTHING they knew about space- WOW it was amazing , the page was covered!!
This week's family time has had an alien focus and the children have really outdone themselves making the most beautiful flying saucers , alien pictures and models. Ella even declared " I want mine to be so beautiful (because) its for Ed" her baby brother. How kind and thoughtful! We had some great teamwork in the construction from Christopher and Herbie . Some fantastic paintings from Stella , Georgia and Polly . Indeed our gallery is now overflowing!
We have taken the space topic into our outdoor learning too, making a trap for bad aliens( Cameron, James S and James C & Jude M 's idea) having an alien tea party with "Squad soup " and "nice leaves - Edith and Jude W's idea! Making the most fantastic rover which then incorporated black holes (Christopher, Toby, Daniel, Noah and Anna all working as a great team on that one) We have made aliens out of rocks and made the planets out of shapes outside too.
So much fantastic work that 2 slideshows were needed to cover it! See below
Music Workshop
Last Wednesday we had a real treat , as we had a visit from the Musicians. They came and did an Olympic theme music workshop with the whole school in readiness for Rio later this year! The children enjoyed seeing the instruments and joining in with the songs . Jude M even got picked to have a go with the shaker in front of the whole school and Matthew, Cameron , Stella , Kate and Evie did a fab job on the tambourines!
Letter and Number Formation and words to help practise blending
Following parents evenings this week several parents expressed that they would want to do some extra work at home helping their child with writing their letters and numbers correctly.Please click links below for worksheets on letter formation - linked to the mnemonics that we learn in class - please feel free to print these for the children to have a go at home too.
I also discussed with some parents how their children are finding blending words tricky still .Even though they can read the words in their reading book either from memory or from the pictures clues- reading the words on their own purely by using their own fred talk and listening skills they often still struggle to hear the word. So see below for some words to print out at home to practise reading with fred talk then trying to hear what the word is.
Number games for the I-Pad and Computer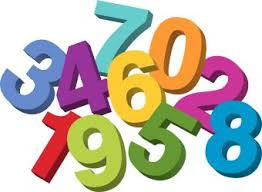 Several parents have asked at Parents evening tonight and last night if there are any games or apps that can help support the children with their number work. There are a huge amount of maths games and resources around online readily available but many of them rely on the children knowing how to do the operations themselves and they test them on their knowledge eg times tables. These are not appropriate for us at this stage where the children are still working out what adding and taking away means and are still working on learning their sense of number.
Here are a few apps perfect for the I pad that would be well suited to Reception children . (I'm sure there are many others out there too that would be just as good- its finding apps appropriate for the children as early mathematicians still that is the key issue)
Here are a few games that are best played on the computer or on a laptop -though some might be tablet friendly
Gingerbread man counting,ordering and matching
Ladybird spots counting matching and ordering
Balloon Pop Greater and Less than
There are also a few things on BBC Schools for number practise- Numbertime
Happy New Year !
Welcome back, I hope you have all had both a restful and happy Christmas break. Firstly, a huge big thank you from myself and Mrs King for all your generous Christmas presents. This term we are learning all about Space - we even have our own rocket in the classroom. We have been watching Tim Peake on the international space station and started our topic reading lots of fabulous space stories like Whatever Next and Man on the Moon! We have thought about what space is and what we can see of space from Earth looking at the moon and the stars(including the sun) We have thought about what astronauts need to wear in space and how they can get there. Then this morning, we looked at Neil Armstong's first steps on the moon. In the words of Edith, we all thought "its amazing!"
See below for more about what we have been getting up to in our first few days this term
End of term and Christmas Party
At the end of last week the children thought hard about what they have enjoyed learning about this half term here are some of the things they said:
Evan& Daniel both said" I liked going to Prudhoe fire station"
Matthew and Evie both said " I liked the play"
Toby " I liked going in the post office and doing cards"
Georgia " I liked going to the fire station"
Stella " I liked coming to school everyday"
Jude M " I like playing with my friends"
Chloe and Molly both said " I liked Little Red Riding Hood"
Reggie and Alex both said " I liked going to the library"
Jude W " everything!!"
Christopher " I liked trying on my outfit" (King costume)
Both Ella and Anna liked " singing with Mrs Banning best"
and Edith, Esme and Phebe liked "making the calendar"
For Polly, Cameron and Noah - the visit to Prudhoe Castle in Autumn term 1 is still their best thing!
What a busy half term! We have talked about what the children would like to learn about next so watch this space !!!!
We had out Christmas party today and the boys and girls looked fab in their party clothes. We had a disco and party games in the hall and even got to have some party food this afternoon!
Whoops a Daisy Angel
The boys and girls were fantastic this afternoon in our Nativity play, singing, acting and dancing and remembering most of their lines! Please see the article on the Rytonian all about the play with some fabulous photographs St Agnes Nativity Magic
Please also see below for some pictures of our dress rehearsal !
Thankyou to everyone who came to see the performance and support the children the afternoon they really did work very very hard to get it just right!
Meet the cast - Whoops a Daisy Angel
We have had our dress rehearsal today and the children looked fab in their costumes. Here's a sneaky preview of the treat you have in store tomorrow afternoon at 2pm! A huge thankyou to Mrs Johnson for the fantastic costumes !
People who help us - Postal service
For the final week of our topic before we are swamped with play rehearsals , Christmas parties & Christmas crafts we have been learning about the postal service and how they help us deliver letters and parcels. We have been reading the Jolly Postman and watching Postman Pat classic episodes! We have been making our own Jess the cats and post vans and our role play area has turned into a post office ready for making Christmas cards. We have even had a think about where we live and how to write the places on an envelope.
Whoops a daisy angel
We have been busy practising the songs for our Christmas play - "Whoops a daisy angel" parts will be going home tomorrow with any costume requirements. The words for the songs can be downloaded below and our clever IT man Ross has uploaded the song files themselves onto Google drive so you can download these too to practise at home!
Doctor Hannah Visit
This morning ( Thursday 26th November) we had a visit from Miss Acheson's friend Doctor Hannah. She showed us all her special equipment in her big doctors bag and we had a try being doctors and patients. We listened to each other's heart beats and our breakfasts bubbling in our tummies with the stethoscope. We had a go at taking each others temperature with the thermometer. We measured blood pressure with the pumper and thought about when we have been to the doctors ourselves and how doctors and nurses help us to get better. We even have our own doctors surgery in reception class now for us to have a go !!
Thank you so much to Dr Hannah for coming in this morning!
Fire Station Visit
This afternoon(Monday 16th November) we went in the school minibuses on a little trip to Prudhoe fire station. We met Steve and Michelle the firefighters based there and we learned lots about the fire service. First Michelle told us all about the special clothes that they have to wear to protect themselves, then she showed us all the equipment on the fire engine that they use to help save people. We got to have a go squirting the hose and sitting in the fire engine. Then Steve put the sirens on and made us all jump! What a fantastic afternoon! Many thanks to Mrs Laidler for coming to help us on our trip this afternoon and to all the crew at Prudhoe Fire station.
Library Visit
Thursday has shaped up to be our busiest day! After meeting the police this morning see below- we visited Crawcrook library this afternoon. The children all were given a special book pack to take away and keep and all got to choose a library book to bring back to school. These will be kept safe in our trays at school for us to look at during school time. The Librarian was very impressed with how sensible the children were and what good listeners they are. A letter has also gone home about joining the library- so if you want your child to become a member of the library than please complete the form and bring it back to school. We will take all the forms down together ready to collect our library cards!
Policemen visit
This morning (Thursday ) we were so lucky to have two Policemen come to visit us in class, one from Whickham and the other is our local police community support officer - Glen Topham. We had a go trying on the handcuffs and the uniform, holding the baton and even got to see the real police van. We sat inside , pressed the siren on (a lot of times apologies to local residents) and even got locked in the little jail at the back! We talked about what the police do to help people and how they keep us all safe. The children were fantastic answering and asking questions and in the words of Harry had "the best day ever!"
RE homework challenge & Playdough disco
On Friday 12th November the children were given a homework challenge to complete in their home proud books and bring in to share on Wednesday 11th November. It is all about baptism and the children need to find out a little bit about their own baptisms to help us in our RE work. Please could you ensure that all homework is in on time. Please click below for a copy
Today (Tuesday) We have also had our first playdough disco- this helps promote the strength in our little fingers that enables us to become good writers and drawers and even maybe musicians one day - all activities that need really good fine motor control. See pictures below
Sainsbury's Sports Mark Inter house Games Day
Today all the boys and girls took part in our first Inter-house sports competition. We are working as a school towards the sports mark sponsored by Sainsbury's and this will help us get one step closer to achieving the award. We started off with an opening ceremony (just like the Olympics) and Reception walked around the hall, waving their flags in time to the music " Chariots of fire." We then did a whole school warm up and put our special house bands on. We did some throwing, jumping and running races in the hall led by the Year 6 sports leaders.
We have then thought further this afternoon about how exercise makes us feel and how it affects our bodies. There will be some tired boys and girls going home tonight for sure!
People Who help Us
Welcome back , I hope you have all had a restful half term. The children have blown me away with how smartly they have come back to school this week , new seats, new tables and a new topic have not fazed these boys and girls at all!
After discussion with the children about what they would like to learn ..this term we are learning about people who help us. We have started off learning about firefighters and their important job. We have thought particularly about their job in the context of bonfire night this week. We now have a fire engine in the classroom so we have had lots of practise with the fire extinguishers and the hose responding to 999 calls! We have been making rockets in the gluing, making fireworks sounds outside in the music, doing firework dancing with the ribbons and pom poms, we have even made our own fountain out of beads using our fine motor skills and we have had a go making the houses of parliament in the construction! What a busy week so far and its only Tuesday!! See below for what we have been getting up to.
Sharing our Learning
Today we had the chance to reflect on our favourite things this half term see below for just a flavour of some of the lovely things the children said:
Alex said " I enjoyed going in the castle and wobbling in the high heels"
Matthew said "I liked playing with my friends"
Evan said " I liked having a party on the pirate ship"
Jude W said " I liked playing the rescue game with the ropes"
Edith said " I liked making the potion to make the ball go off the roof"
Chloe said " I liked playing with my special friend"
Phebe said " I liked the number work"
Ella said " I liked P.E with Mrs Henderson"
Toby said " I liked going in the minibus, then making our own one outside"
Harry said " I liked learning the new sound"
Anna said " I liked going to Prudhoe castle"
Polly said " I liked making a fairy wand in the gluing"
Jude M said " I liked doing drawing"
We also got a chance to look through our Learning Journals with our special friend's and reflect on all our fantastic work. Our journals are the place all our best work gets glued into and Mrs King & Miss Acheson write lots of observations and glue photos in of our super learning. It took ages going through it all! See pictures below.
Have a fantastic half term
Coming in and home time
Please note the change of going home time -after the holidays at home time ,the children will be let out from ten past 3 to save siblings waiting in the cold. Please could you also support us in our work in getting dressed by encouraging the children to come straight in and take their own coats off in the classroom in the morning. The boys and girls are getting really independent in their dressing skills which is just fantastic. Finally could you ensure all children go to the toilet before school so they can come in and get on with their work straight away without distraction. Thanks so much
Last week of term
This week we have had parents evenings on both Monday and Tuesday. A big thank you to all parents who came, its always good to hear from the other side how you think the children are doing and finding being at school.
We have finished off our topic "Once Upon a Time " learning about our Queen and Buckingham Palace. The children have been painting Buckingham Palace, practising being the Queen's royal guards, drawn pictures of the corgis and even glued our own soldiers. We have started using the laptops too practising our colouring skills using Purple Mash something the children all have their own logins for at home too https://www.purplemash.co.uk/sch/stagnes
See below for what we have been up to this week.
Letter formation and pencil control
A lot of parents have asked tonight if they could have copies of the pages we use with the children to help them practise holding a pencil. See below for downloadable worksheets to practise at home
Here are a few that can help children practise their cutting skills too if that is something that they find tricky
See below for some further ideas as to how your child can develop their fine motor skills , developing that strength in their fingers to enable them to hold a pencil properly
Fine motor skills Activity Ideas
Prudhoe Castle
Our first school trip this afternoon to Prudhoe castle was a huge success. We had so much fun! The children were fantastic putting their seatbelts on for our first journey in the minibuses. We then explored inside the castle on the way in Edith noticed "it is all falling down" Alex suggested it may be because of "a thunderstorm" but then looking at the pictures on the timeline we worked out it was not only because it is so old its because the people who owned it moved out and it is not looked after any more like when people lived there. Toby has already suggested if we find someone to help they could build it up again" making it up "like a big tower" suggested Herbie and then we could all live there! How fab would that be! After exploring the grounds and the inner bailey and keep, we looked at the big book of castles and found out some more information. We looked for dragons in the castle grounds which James assures me are there somewhere and had go fitting Reception children inside the huge oven.... so big you can walk into it! We counted how many steps long the great hall would've been and spotted the building which housed the chapel, by spotting the cross just like the cross on our chapel wall. We had a go building our own castle out of building blocks and finding signs of autumn in the grounds. We even peeked through an arrow loop just like a real knight. What a busy afternoon, we learned so much!
Phonics & Reading Parents Meeting
Thanks to all parents who attended tonights Phonics and reading meeting. Please see below for a copy of the powerpoint and the guidance notes that were given out at the meeting.
As a little recap... Initially all children learn the single sounds, they then learn how to blend these single sounds in words(short 3 letter words such as cat, mat, mad, sad). Firstly by hearing the teacher or adult sound out/fred talk the word for them (assisted blending) eg m-a-t then telling them the word mat so they can hear how words sound when they are broken into sounds. The children copy saying the words like this for a short period. They then have a go telling the adult the word from the sounds they can hear. This then progresses further to them reading the sounds then blending the sounds together themselves to say the whole word.
If your child is struggling to hear the word even though they can say all the sounds in the word but then they say something random it is helpful to go back a step and repeat the sounds back to them they have just read can ask them what the word is. Often the children know the sounds but the independence in blending isn't there just yet but hearing someone else say the sounds for them they can then hear the word.
Following this digraphs (2 letter sounds) and trigraphs are taught. sh, th, ch, qu , ng,nk. Then they start set 2 sounds igh ow oo oo ee ay. This then leads on to ou or ar ir oy air. All the time practising blending these sounds in words.
At this stage we would not teach the alphabet or the "letter names" as they do not help children to read - these are taught much later on when children become confident in blending sounds together to make words.
The sound cards we use can be bought from Amazon along with a parents guide. I believe they are about £2 a pack . They are made by Ruth Miskin and come with green words for the children to practise blending too.
http://www.amazon.co.uk/Read-Write-Inc-Home-Flashcards/dp/0198386710/ref=sr_1_3?ie=UTF8&qid=1444337034&sr=8-3&keywords=read+write+inc+speed+sounds+set+1
http://www.amazon.co.uk/Read-Write-Inc-Phonics-Flashcards/dp/0198386818/ref=sr_1_4?ie=UTF8&qid=1444337034&sr=8-4&keywords=read+write+inc+speed+sounds+set+1
http://www.amazon.co.uk/Read-Write-Inc-Phonics-Handbook-Help/dp/0198386702/ref=sr_1_1?ie=UTF8&qid=1444337143&sr=8-1&keywords=read+write+inc+parent+guide
Please also see the document below for the pictures which accompany the sounds for set 1 and set 2. Blending can be practised by getting your child either to make the words with magnetic letters on the fridge or in the bath or by writing them down or by doing it orally. See the document below for some word lists you can challenge your children to practise blending and spelling this half term !!
Finally the children are expected to know some words by sight - red words we call them.. the words you cannot sound out. Please see below for the red words we are working on too. The children are expected to be able to read the red words and then to be able to write them too.
green words to practise blending.pdf
Some phonics games to practise sounds and blending
Also, see below for a list of suggested stories for storytime Whether they are read to or have a go reading themselves - just having the opportunity to hear and absorb quality texts has huge impact on the children. As if they have not got a good bank of stories in their heads already to draw from how can they be expected to eventually write and create their own?!
143_Stories for storytime.docx
George and The Dragon
This week we have been learning about the Knight St George and how he slayed the dragon. We have made suits of armour, castles, shields and had a go making our own story books!
Tennis Sessions
This morning we had a real treat and had a little taster Tennis session in the hall with the Tennis coaches. We practise some ball skills and learned a little bit about the game of Tennis. Some of us even wowed the coaches so much we got a special invite letter to join the tennis club out of school hours!
Going to Church and Visiting the Chapel
On Wednesday last week we had our first visit to church. We walked down with our special friends and sat and listened carefully to Father James. We tried hard to join in with the songs and with the prayer words we knew. The boys and girls were super smart for the entire mass we were so proud of them.
On Friday we then had a little visit to our own chapel in school, we said some prayers for our own special intentions, listened to a Bible story and sang some songs it was a really lovely quiet reflective start to our Friday morning
International day
Today (28th September) was international day at St Agnes school. Each class had a different country to learn about and ours was Germany. We learned some German words and games with Frau Innerdale and had a go at painting our own Kandinsky paintings. We have made German flags and seen whereabouts Germany is on the map. Our story this week happens to be another from the Brothers Grimm - Sleeping Beauty - so we have had a look at the real Sleeping Beauty castle in Germany too!
Special Friend
This afternoon we met our Y6 special friends for the first time! We had lots of fun getting to know them and playing games with them. Every reception child is paired with a Y6 buddy for the duration of their time in Reception to help be a buddy to them and to support and help them out.
Macmillan Cake sale
This morning we all had the chance to go and buy a cake in the hall with our 50p's some of us even had a go on the lolly game by Y5 with our change and Jude M won a prize lucky boy! We loved eating our yummy cakes and we raised lots of money for a very special cause with our money. Thank you to all parents who brought in cakes for us to sell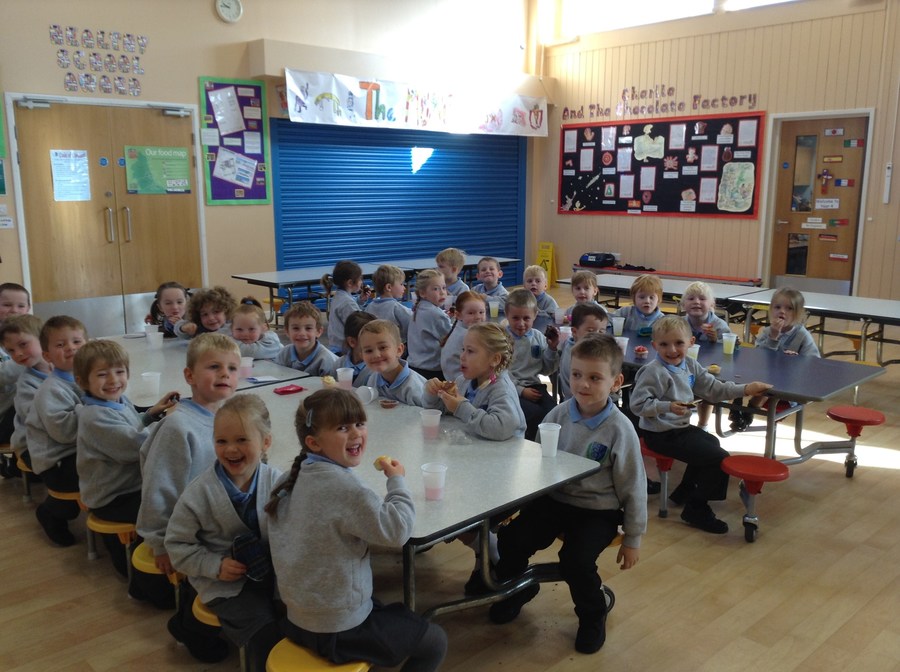 Starting our sounds
We have started learning our sounds today- Miss Acheson has checked what we have remembered already from Nursery so we can start in just the right place for us! Each child will be coming home with some work each day with the sound they have learned in school that day please feel free to go over it with your child and reinforce our learning at home.
Please note that at this stage while forming our letters would be amazing - at the moment we just need to be able to recognise the sound and know what it says , writing or painting the children have done on their new sound is purely to aid in their recognition
If children mention a frog called Fred (pictured below) he is a character in our class that helps us learn how to put sounds together to make words - we call it fred talk when he talks in sounds !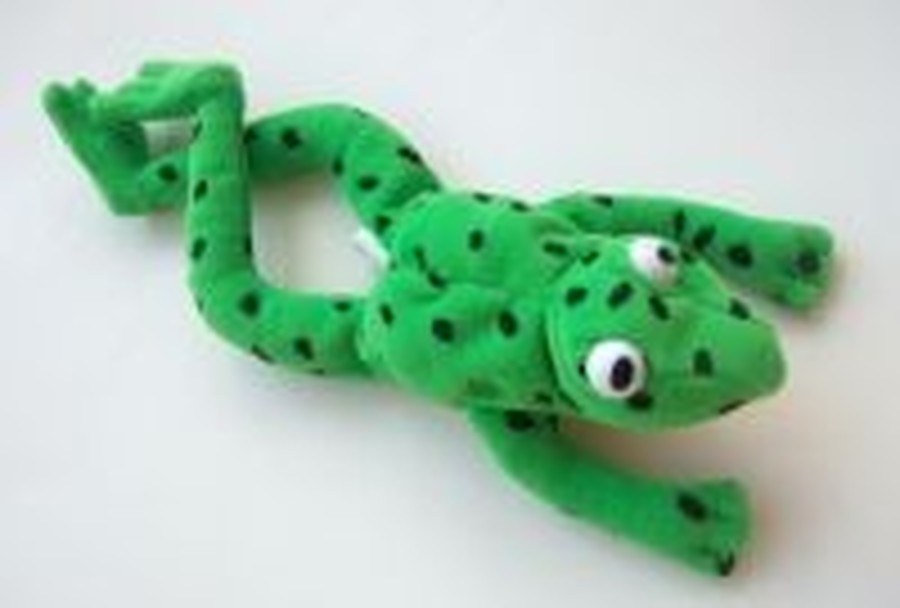 Each sound we learn has a picture that goes with it to help the children remember what it looks like and how to form the letter eg d-dinosaur, s-snake. Please see the link below for a guide to how to pronounce each of the sounds we are learning in class and the accompanying pictures with the mnemonics that we have been learning in class
Please click below for some "Fred games" to help your child practise blending their sounds in words.
Castles, Dragons, Princesses ... our new topic "Once upon a time"
In Reception we are very much guided by the children's own interests and this years class are fascinated by castles, dragons and princesses. So much so that we have decided to do a topic all about it! We now have our very own castle in the classroom , we have ball gowns and glass slippers in the gluing , castle designs in the construction, the fairy godmother has even waved her magic wand over our water tray! Please see below for a snippet of what we've been doing our curriculum plan and our first welcome letter
Week 2 (the first full week!)
This week we have stayed for dinner every day, had our first P.E lesson with Mrs Henderson, had Little Kickers football on Thursday morning and joined the big boys and girls in assembly ! We sat so well Miss Acheson and Mrs King were very proud !
We also had our first star pupils- Reggie for coming in every day with a smile on his face and Phebe for the most fantastic gluing job not giving up even though she found it hard.
Reading books went home on Friday too in book bags and ought to always be returned Monday morning so we can hear the children read
Our First Week
Our first week in school has been ever so busy. We have been exploring our new classroom, trying out all the new areas and making new friends. We have been painting dinosaurs, rainbows , flowers building "playgrounds" to practise our jumping and obstacle skills. We have been building castles with dragons in them , dancing and making music outside, gluing castles, rockets and special boxes for our family. We have even been pirates on the pirate ship. No wonder the children were shattered by Friday!