Year 5
Hello!
Welcome to Year 5, a class with 29 children and their wonderful teacher Miss Pinnella. This year we will be working on a new curriculum and unfortunately every class (apart from Year 6 who are still doing the old curriculum) have to be able to do quite a few new things by the end of the year. Mr Laidler, our head teacher, came into explain what our class must do. I'm sure by the end of the year we will be thinking it was so easy! Despite all the complicated things, Year 5 will be a fun and important year as we are taking part in new activities such as guitar and being a buddy. If you ever visit our school come in to Year 5, take a look at our displays and try to meet a few of us. It would be nice for you to see how hard we are working to make people proud of Year 5.
By Niamh and Mary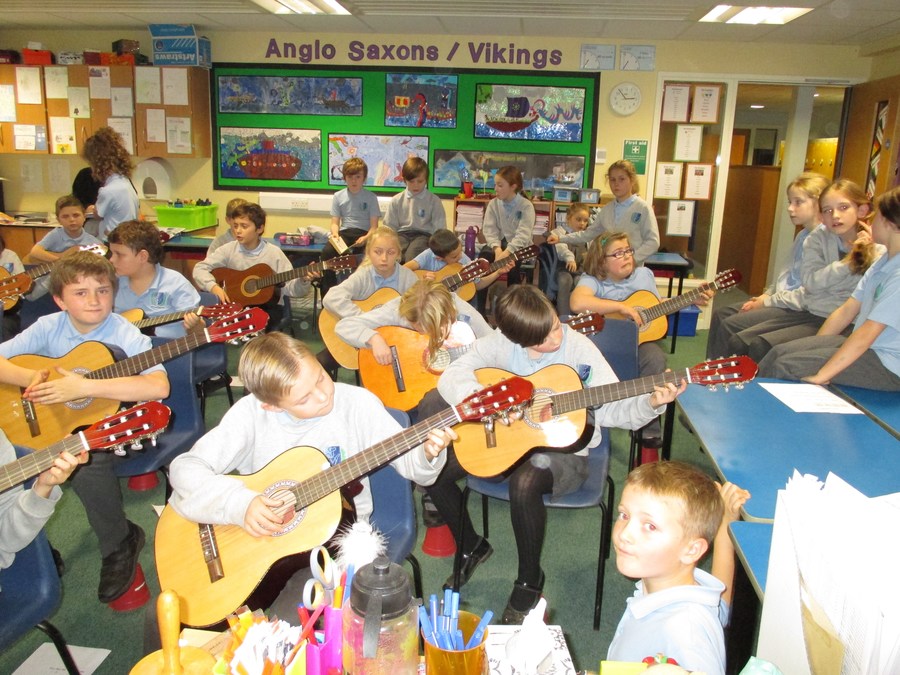 In Year 5 we are taught guitar on a Wednesday afternoon. We are taught by Mr. Strong and he is a very friendly man.
Firstly, to start the lesson, we play a range of games including one where we have to clap the tune back but we have to watch out for the tune don't clap this one back. These games test our rhythm and control. Then we get on with using the guitar.
We work in partners and are learning a range of different tunes.
We are currently learning James Bond. WE ALL LOVE GUITAR!
By Jess
On the 24th October we took part in some Buddies training. Year 5 is a very special year as get to become Playground Leaders and support the playtime staff on the Infant yard. We were shown how to play lots of games that we could play with the Infants. Our favourite game was stuck in the mud and it was really fun. The Infant's favourite game is called Shark Attack. After that we had to take it in turns to become the leader and teach each other different games. The training was great fun and very useful!
By Aaron and Kyle
On Wednesday the 5th of November we started a PE topic called Karate Fitness. An instructor came and taught us some fun games with karate skills within them. We then got taught how to speak some Japanese! Our favourite game was trying to do Karate skills in a hula hoop. We had a fantastic afternoon and didn't want it to end. Luckily, we will be having Karate sessions till Christmas. Phew!
By Sofia and Bradley
On Thursday 6th November we were lucky enough have a session with Alison teaching us all about bikes. We got into groups of 4 and were told there would be points for answers throughout the afternoon. Firstly, we looked at the bikes. Then we cleaned the bikes because we were told that if it was wet it would turn rusty. After that we deflated the tyres to see who could get their tyre the flattest. Next we pumped them up again to see who could get them pumped up first. Then we had to find the puncture on the inside of the tyre. We put it in the water and spotted the bubbles coming from the puncture. We had to use sand paper to sand it down before we could use rubber glue to sick a rubber patch on it. One team got 53 points and won!
By Sophie F and Euan
Year 5 visit The Centre For Life!
Powerful Poetry!
Following on from our Recount topic based on World War I, we led into our poetry topic by looking at the poem In Flanders Fields. We had a go at recalling the original poem and adding verses of our own. We hope you enjoy the extras!
By Nico
Spectacular Space!
This half term we have been learning about Space. I really enjoyed creating The Solar System and learning about light and dark. Soon, we will be using the planets to create a display so come and visit it in Year 5.
Year 5 & 6 Christmas Party Day!
Year 5 & 6 enjoyed our school sponsored Disco Bounce!
Year 5 Hoops4Health Basketball Competition!
On Tuesday 3rd of March, Year 5 took part in the Hoops4Health basketball competition. They all played extremely well and had a great time in the process!
Healthy Teeth!
On Monday 2nd of March, Year 5 & 6 were shown how to keep their teeth clean and healthy!
World Book Day 2015
On Thursday 5th March, it was World Book Day and we all dressed up as a character from our favourite books. We took part in a parade to show off all our costumes. Each class stood at the front and explained their character and which book they were from. Next, we had a bookmark competition and it was great fun. Year 5's winner was Dylan and he decided to choose The Gruffalo to put on his. Then in the afternoon, we had a book quiz which I really enjoyed. Each year group had to represent one member (from each House) to take part. St Cuthbert's House won the quiz! Everyone had a brilliant day and I cant wait for next year's!
By Alexandra
Year 5 & 6 Gateshead Dance Festival!
On the 17th of March, some of our children from Year 5 and 6 took part in this year's Gateshead School's Dance Festival. For many weeks they worked hard in order to perfect our dance routine. Well done for a great performance!
Getting Arty!
As part of preparing for the Dance Festival the children were offered a chance to enter a design competition. The task was to create a design that would be used on the front cover of the program and would be seen by thousands. Many of our children came in the top 50 and two of our children came within the top 10. What an achievement as there were over 1000 entries!